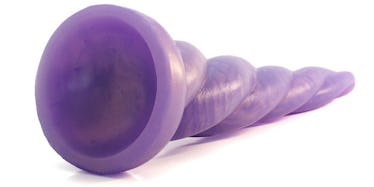 This Colorful Unicorn Horn Dildo Will Confuse The Hell Out Of You
Geeky Sex Toys
Are regular, non-magical dildos just not cutting it for you anymore?
Don't worry; Geeky Sex Toys (the same nerds behind the Pokemon dildos) has come up with a magical "Unicorn Horn Dildo" to serve all of your sexual needs.
Geeky Sex Toys described the $50 majestic dildo on their site:
A super cute toy made by us at Geeky Sex Toys. This legendary mysteriously mystical dildo will help stimulate the most magical orgasms. The suction cup allows for more adventurous role play creating your very own fairy tale ending.
Because I KNOW all of you were worried your dildos weren't "cute" enough.
I'm not sure about you, but I hate that the word "suction cup" is used in that description.
It makes me think of a toilet plunger, and let me tell you, I am not totally sure what a "magical orgasm" entails, but I'm pretty sure anything reminiscent of a toilet plunger isn't going to do the trick for me.
The weirdly "magical" sex toys are honestly pretty beautiful. They look like they could be a decoration in a little girl's bedroom... which, again, makes them weird and kind of creepy.
I don't want anything in the realm of my sex life to also be described as something found in a little girl's bedroom.
But, hey, maybe that's just me.
I mean, tell me that pile of sparkly, swirly dildos isn't actually kind of... well, pretty. But also, tell me you wouldn't decorate a little girl's room with a bunch of them if you didn't know they were dildos.
If you want to know more about how this ~magical~ dildo works (and my irrelevant commentary isn't quite doing it for you), check out this informational video for yourself below: (I promise it's not porn.)
Slightly questionable, but still so magical.
And the real question is, how much do we think Josh got paid to film that snazzy tutorial?
Citations: These Unicorn Dildos Are Here to Give You Magical Orgasms (Cosmopolitan)