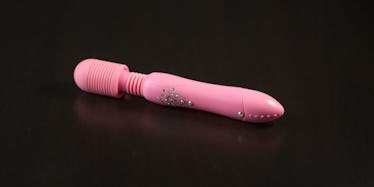 This Sex Toy Company Will Donate Money To Charity Every Time You Masturbate
SHUTTERSTOCK
In case you missed the memo (for some weird reason), it's National Masturbation Month, otherwise known as Masturbation May!
In celebration, sex toy company Tenga is launching their #DoItInMay campaign aimed at breaking down the stigma surrounding masturbation by raising awareness about its benefits.
The campaign's website explains that even though most Americans (95 percent of men and 81 percent of women) masturbate, the topic is still considered "taboo" by many people in our culture.
Through this campaign, they hope to "broaden the conversation beyond funny euphemisms and celebrate masturbation for what it is: a positive and healthy sexual practice."
What's so great about masturbating in general? Well, according to their site, the act of ~loving yourself~ has plenty of great effects for you both physically and mentally.
"Modern research confirms that it also can elevate your mood, boost your immunity and flush toxins from your body," site reads, "It can even strengthen your sexual performance with a current (or future) partner."
To get involved with the campaign, all you have to do is pledge that you're going to regularly masturbate this month, and Tenga will donate $1 to the Sexual Information and Education Council of the United States (SIECUS) — an organization that promotes sex ed — for every pledge they receive.
Yep, you read that correctly: YOU'RE GOING TO BE GETTING FREAKY FOR A GOOD CAUSE.
And it gets even better. IF you use the #DoItInMay hashtag on social media (it doesn't need to be a picture of you doing the dirty — just has to be any old pic with that hashtag), Tenga will DOUBLE their donation, donating $2 to SIECUS.
The cap to their donations is set at $10,000.
Rest assured, the campaign isn't aimed at making anyone feel ashamed for not masturbating, either. Instead, their site explains that it seeks to empower people no matter what their sexual decisions:
SIECUS believes that no one should be made to feel guilty for choosing or not choosing to masturbate. To ensure that no aspect of sexuality is shamed or stigmatized, SIECUS advocates for the right of all people to accurate information, comprehensive education about sexuality, and the full spectrum of sexual and reproductive health services—and we are proud to support them in their efforts.
Whether you're down to get down with yourself or not, it's safe to say this is a pretty great cause.
Citations: You Can Now Masturbate For A Good Cause (Refinery29)