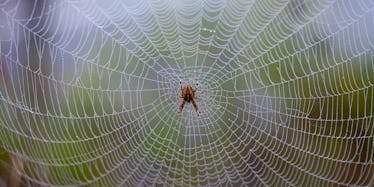 Spiders Have Four-Hour-Long Threesomes Where Females Kill Males Who Don't Satisfy Them
Carolyn Lagattuta
If you think threesomes are tricky in human relationships, try being a spider and going through it, where losing limbs and violent deaths are apparently super common.
If I've said it once, and I'll say it a thousand times: WHY AREN'T WE TALKING MORE ABOUT SPIDER SEX?
Here's the deal: Male wolf spiders will often hop into threesomes, with a female spider and another male spider, to lessen their chances of being eaten by the female when it's all over. 
Talk about high risk and high reward.
If you've never seen a wolf spider, imagine what a wolf and a spider combined might look like, and baby, you got it.
If you are NOT interested in seeing for yourself, please close your eyes now.
This whole threesome behavior was discovered by biology and ecology professor Matthew Persons of Susquehanna University in Pennsylvania when he noticed a bundle of wolf spiders in his backyard.
Dr. Persons told Live Science that by bringing them inside (and watching them get it on in his kitchen for four hours), he was able to track and record their positions and activity.
Apparently, female wolf spiders have two sets of reproductive organs, making it physically possible to mate with two males at once.
Now, this is actually a huge bonus for the males themselves.
Not only does it help them conserve energy when mating, but it also reduces their odds of being literally eaten at the end, as the female spider will traditionally eat the male if she isn't impressed by his performance.
However, if we're talking strictly procreation, Dr. Persons says the ol' threesome may not be the most effective way to go.
In his study, Persons said, "In my direct observations, males showed … sparring, missed insertions, attempts at … insertions into the other male's venter [underside] and attempts to displace the other male during insemination."
Also, according to Persons, "the longer the mating duration, the higher the probability that they get eaten afterwards." So yeah, maybe four-hour-long threesomes aren't the most ideal.
However, he was lucky enough (I guess?) to see one spider lose an entire leg in the matter, though it was not clear who or what caused that to happen or why.
More findings from Dr. Persons' sexy spider study can be found in the upcoming issue of the Journal of Arachnology... you know, if eight legs, multiple eyes and lots of phantom itching turns your crank.
Citations: Spiders Have Four-Hour-Long Threesomes Where Females Kill Males Who Don't Satisfy Them (MailOnline), Kinky Wolf Spiders Engage in Ménage à Trois to Avoid Cannibalism (Live Science)