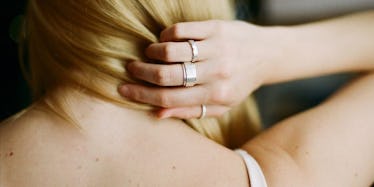 5 Low-Key Ways To Spice Up Your Sex Life By Using Jewelry
Lyuba Burakova
There's a scene in The Ugly Truth (the best worst movie of all time) where Katherine Heigl's character wears vibrating black underwear to a business dinner. Through an adorably convenient storyline that can only exist in a rom-com, a little kid somehow gets his hands on the remote control for the underwear and controls the vibrations to the point where Heigl has an orgasm right at the table in front of all her co-workers. It's cringeworthy, hilarious, and a perfect example of how spicing up your sex life can be as simple as wearing your sex toys.
You don't need to be like Katherine Heigl and have an orgasm at the dinner table. But there are so many options for wearable sex toys — specifically beautifully, well-designed jewelry — that will make you feel like you're keeping a dirty little secret from everyone around you, which will make you feel sexy. I know that sounds like a line from a dated women's magazine, but I'm being completely deadass. You will feel so hot wearing a vibrator in the form of necklace.
Here are five pieces of sex toy jewelry that you can wear if you, too, are looking to feel a little sexier.
This necklace is my favorite thing I own. I feel amazing when I wear it on dates. Guys have no idea that my necklace is actually a vibrator, and the best part is that they could know if I just told them — I just choose not to. (See? Dirty little secret.)
It is not only such a sleek and elegant piece of jewelry that can be paired with both a cocktail dress and a t-shirt, but the vibrations are so powerful. More powerful than most actual vibrators, if I'm being honest.
The best part is you can wear it on a date or to a fancy party, and nobody will know you used it on yourself last night. Even more dirty secrets!
These bracelets are so dainty and low-key, you'd have no idea they could double as handcuffs if you just unhook the latch where it says "Unbound" and find a willing partner to lock to a bedpost. (Seriously, I had to look around for the handcuff latch when I first got these. It's that discreet.)
For everyday wear, just line up both of the cuffs, slide your hand through them, wear them both on one wrist, and viola — they become two bangles. Nothing else to see here.
One of my best friends says she's "obsessed" with this necklace, and for good reason: She looks like such a badass whenever she wears it. Her girlfriend gave it to her for Christmas, and she wears it literally all the time.
"It makes me think of sex, which always elevates my mood, but it isn't overly scandalous because it looks high-fashion as well," she says. "I also like how it's a message of both submission and dominance. The collar is very submissive and the whip attached to it is very dominant. As a girl who considers herself versatile (both a top and a bottom), I feel like it was made just for me!"
I recently hung out with one of my friends who wears a tiny cross necklace. We were talking about religion as our nails were drying after getting a manicure, and as she referenced her necklace, I realized my Venus necklace kind of looked like a cross, too, so I held it up and said, "MY RELIGION IS WOMAN."
In all seriousness, this necklace will make you feel so proud to have a vagina. Whenever I wear it, I am reminded that I am WOMAN, hear me ROAR, which makes me tap into my most feminine self. I absolutely love femininity, and I feel sexy when I'm able to celebrate it by wearing a necklace like this.
This necklace is SO COOL. It looks like a little sun, but it's actually a spiked wheel that pops out like this:
You roll it across the surface of your skin, and it gives you a crazy prickly sensation that feels great and doesn't hurt (though, it definitely can if you press harder). If BDSM is something you're interested in, this necklace is a very low-key, accessible entry into that world. I can imagine this feeling really, really good on erogenous zones.
You can check out a lot more sex toy jewelry here. Overall, buying any one of these pieces of sex toy jewelry will change your sex life. I can assure you I had no idea I needed a vibrator necklace until I got one.
Check out the "Best of Elite Daily" stream in the Bustle App for more stories just like this!