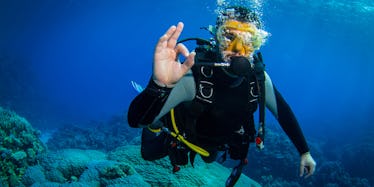 People Are Literally Shook Over This Deep Sea Worm That Looks Like A Penis
sergemi/Shutterstock
What up, guys? It's me, back to tell you about weird science stuff that I simultaneously love and hate knowing.
I already told you about the actually insane, yet hardcore terrifying way dolphins have sex. (Seriously, what even is the dolphin vagina?) But now, friends, the deep sea has gifted us with more weird sexual findings — this time, in the form of a worm.
Researchers from Museums Victoria and Australia's scientific research agency, the CSIRO, just spent an entire month exploring the ocean to find more underwater life forms that should probably stay unknown.
This time, though, the researchers really hit the jackpot, because they essentially found the ocean's (very tiny) dildo.
I mean, JUST LOOK AT THIS LIL GUY AND TELL ME IT'S NOT A MINI PEEN:
This creature isn't a new discovery. It's called a sipuncula, otherwise known as a peanut worm, according to Mashable. IBTimes UK reports they're nicknamed peanut worms because they supposedly look like peanut shells when they retract their heads out of fear. But this little guy definitely looks more like an actual penis than anything else. Don't @ me.
As with anything related to the humor of a middle school boy, the internet is literally shook (and so amused) over this discovery:
Can we be done with the ocean now?
WE ARE ALL SHOOKETH.
For once, it IS that deep, fam.
Which one of you lost a freaking penis in the ocean? Who did it?
How many nuts would a peanut worm nut if a peanut worm could nut nuts?
I mean, someone had to say it...
Shhhh! The little guy might hear you and get his feelings hurt!
Ariel, put that thing back where it came from.
Is the literal ocean not enough to quench your damn thirst?
LEAVE MR. KRABBS ALONE.
What else has SpongeBob lied about?
This has yet to be confirmed, but seems likely.
I KNEW I've seen this guy before!
According to the University of California's Museum of Paleontology, about 320 separate species fall into this sipuncula category. While some tend to dig into mud and sand, others opt for hiding in dark crevices.
And I think we all know which dark crevices those are.