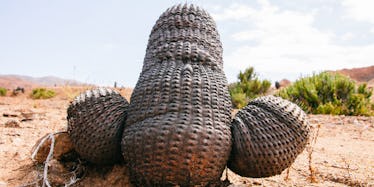 'Scrotox' Is The New Botox For Guys Who Want To Fix Their Sweaty, Wrinkly Balls
Alejandro Moreno de Carlos
Most of us (unfortunately) have some type of body insecurity. It's why cosmetic procedures that melt fat away or rejuvenate your vagina not only exist, but continue to grow in popularity.
And now, there's a new fix to add to that ~beautifying~ list: Scrotox. Yep, it's exactly what it sounds like... botox for a guy's balls (or scrotum, if you like anatomical terms).
Now, personally, I don't really care what a guy's balls look like. But after scouring the web, I learned that saggy, small, and wrinkly balls seem to be a valid concern for a lot of dudes.
"I know they look like the excess skin from a 60-year-old man who lost 200 pounds way too fast, but I can't do much about it. There's no botox for balls," Cosmopolitan's male columnist, Cosmo Frank, once admitted about his own pair.
Another dude confessed to Women's Health, "My penis, balls, and taint are usually marinating in my own sweat throughout the day, which doesn't exactly yield a lovely floral scent, so I'm always insecure about what a girl will think if/when she goes down on me. All I can do to overcome that is to powder my balls or spray some cologne or Febreeze down there before a big date and then hope for the best."
Ah, but now there IS something you can do about these problems, guys! Now there is!
As Metro UK explains, Scrotox promises to reinflate deflated and slightly wrinkly balls, reduce the amount of sack sweating, and enlarge the twins' appearance by relaxing the scrotum muscles.
But the injection is no joke, as it can cost over $3,000 to give your balls a makeover.
Mark Norfolk, Clinical Director of Transform, a cosmetic surgery center in the UK, told Metro that requests for Scrotox at his office have doubled in the past year — even though he doesn't currently offer it. This matches the trend of more men getting plastic surgery in general over the past 10 years.
But be warned, fellas: Despite its sweat-eliminating and swelling abilities, ball Botox won't necessarily have a huge effect on the wrinkles or sagging, Norfolk says. So if "lots of loose skin" is what you're mostly concerned about, you may be better off opting for surgery to get rid of excess skin.
Otherwise, if you're really insecure about your ball sweat, size, or wrinkles — and you have a ton of cash to spend, as well as a high tolerance for needles in your balls — Scrotox may be worth a try.
I may not kick you out of bed if your balls aren't perfectly large and baby smooth. But that's just me.