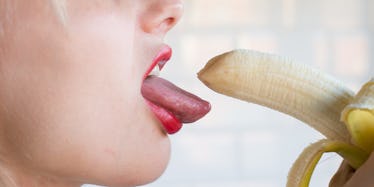 This Retainer-Like Device Was Designed To Help You Give Amazing Blowjobs
Shutterstock
Millennials have been asking the age-old question, "What that mouth do?" (And if you don't know what I'm talking about, click that link because you're missing out on the best meme of this century.)
The mouth has three main purposes: aesthetics, talking, and chewing.
But Kuang-Yi Ku, a gay man, design student and former dentist, created a product to remind everyone that the mouth has a fourth purpose: sex.
Using his profession, his art, and his desire to create something he himself could use, Ku came up with a thermoplastic retainer that, in laymen's terms, enhances blowjobs.
The device has rubber bumps and ridges that aim to maximize the pleasure for men. He calls it The Fellatio Modification Project, and the best part is, it's on display RIGHT NOW at an exhibit called, "Mouthy: Into the Orifice" at the Science Gallery London.
Yeah, sadly, there's no talk of this product being up for sale or every day use yet. Only around 30 people own the blowjob retainer, including its creator. But maybe ONE DAY, we can all experience its magic.
The former dentist says,  "I'm from the gay community and I realized that the medical school is a very patriarchal system, very serious, and traditional, particularly in Asian countries.  So I wanted to approach that relationship."
Basically, he wanted to make something that would benefit him and his partner, without having to come out as gay, since it's not as universally accepted in his culture.
Andrea Bandelli, executive director of the Science Gallery International, told New Scientist,
For many LGBT people there is so much social pressure on shedding or hiding one's identity, and therefore an inner demand to find ways to design and express another. This project was exactly hitting that note – allowing a conversation about this issue, and showing how art and science can provide a platform for this conversation.
While it may not be for everyone, the kind of impact this tiny, little device can potentially have on the sex LGBTQ+ couples have is kind of incredible. And obviously, straight couples could use this invention as well.
Since we're going into TMI territory anyway, let me just say that sometimes, I've wondered about my BJ abilities and how I can improve. But I just thought using a banana or watching YouTube videos would do the trick.
I never thought the solution would be a hidden sex toy in my mouth!
Everyone's saying they're going to Canada after the election results. But after knowing about this product, I'll be moving to the UK really quick.
Citations: This Dentist Invented a New Retainer to Make Blow Jobs More Pleasurable for Guys (Cosmpolitan)