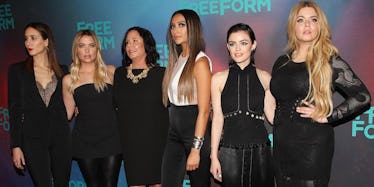 The Sex Scenes In 'Pretty Little Liars' Are About To Get Hotter Than Ones On HBO
Shutterstock
I stopped watching Pretty Little Liars pretty much as soon as I started watching it because, frankly, I'm a giant wuss, and it was terrifying.
Also, I love spoilers, and NOBODY would tell me who A was. So yeah, I got over it fast.
But for those of you brave and loyal souls who really stuck with the show, it sounds like there could be a little X-RATED REWARD waiting for you.
The show's executive producer, I. Marlene King, recently admitted on Twitter that the show is going to take a little bit of a turn toward the ~naughty~ side in its finale, at least when it comes to the sex scenes between some of the show's couples.
It all started when one Pretty Little Liars fan tweeted at King, asking, "is it true ezria get hbo level sex in 720 or nah."
To that, King replied, "there is a lot of HBO level sex in 720. Equal opportunity HBO level sex."
BOW CHICKA WOW WOW.
When fans started inquiring about who the lucky couple making hot, sexy love in the finale could possibly be, King quickly shut them down by making it clear that plenty of couples would be doing the dirty.
She said, "I didn't say who was having HBO sex. I said everyone was. Go figure."
I guess any haters accusing her of spoilers were sufficiently shot DOWN with that one.
Before she left her fans once and for all, King dropped one final spoiler for everyone in regard to the same-sex couple on the show, Emily (played by Shay Mitchell) and Alison (played by Sasha Pieterse), nicknamed "Emison."
One fan of the couple inquired, "this includes Emison right??" to which King replied, "the most HBO ever for them. Proudly, directed my [sic] me. Now I must stop spoiling."
And, with that, King left her fans to go back to wondering what exactly they'll see in the season finale.
Refinery29 reports that King usually doesn't give many spoilers, particularly regarding the final half of this season, so it's pretty unusual that she's treating us to all this extra info.
But, as a lover of spoilers, BOY, AM I GLAD SHE DID.