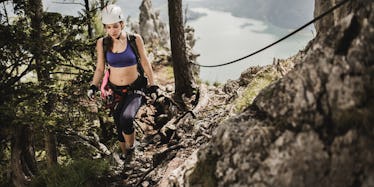 Mixxxer Is The Tinder For People Who Just Want To Have Sex ASAP
Stocksy
Since its inception, dating app Tinder gained a reputation for being about casual sex rather than real relationships.
However, there's a new app just for hooking up that those seeking casual sex can use instead. You can avoid any confusion and get straight to the point.
The app, Mixxxer, makes it clear it is not a dating app. Its sole purpose is to match people up for sex.
Users are free to share explicit photos and, similar to Tinder, connections are made by liking others' photos.
Since it's GPS-based, when a connection is made, the app allows for communication to determine when and where the hooking up will take place.
And, unlike most dating apps or sites, users don't have to be just one person: When you sign up, you're given a range of options to choose from.
Where you'd normally enter your gender and sexual preference, there are also options to sign up as a "couple" (for couples seeking threesomes, presumably) as well as "transexual."
Unsurprisingly, the app is a hit with the young and the horny. Over 100,000 users signed up within the first eight weeks of the app's launch and the number of users is continuing to grow.
You have to be 18 to sign up, but the app is free (and available on pretty much every app store imaginable).
H/T: The Daily Beast, Photo Courtesy: We Heart It