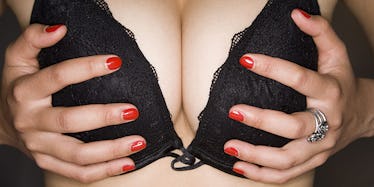 Men Say The Predicted 'Small Nipple' Trend Of 2017 Doesn't Need To Happen
REX/Shutterstock
We know about women increasing their bra size, and Kim K basically became the "face" of butt implants, despite her denial of ever getting the surgery.
But there's a new cosmetic trend you didn't see coming, and according to experts, it's nipple size reduction.
No, seriously. That's the prediction that was made by the Plastic Surgery Group of the UK, which released its annual cosmetics trends.
According to the Independent, Dr.Mo Akhavani wrote in the study,
We have seen a 30 percent rise in women requesting a smaller nipple size in the last year. There is more of a focus now on nipple size in general.
But Akhavani didn't only assert changing nipple sizes as a trend, he basically implied that research shows women with smaller nipples were better looking, too.
Akhavani said, per The Independent,
We found that patients with smaller-sized nipples rated high in attractiveness than those with larger nipples
Yes, that's a real quote. And if it made you scratch your head, trust that you're not alone. The idea that women with smaller nipples are more attractive is perplexing because:
It's not like they are out there for everyone to see and judge on a daily basis.
Unless I'm missing something, there doesn't seem to be many men clamoring about smaller nipples (and we clamor about everything we don't get).
That second point is especially true for the men who responded to the idea of a nipple-change trend.
In a recent thread on Reddit, men were asked what their ideal nipple size was for a woman they were sleeping with. And, surprise surprise, most guys responded exactly how you think they'd respond: "Eh, it doesn't really matter that much."
One respondent tried so hard to show how much of a non-issue nipple-size is that his sarcasm belongs in the condescending hall of fame.
Aereolar diameter of no more than 37.3 mm, nipple diameter of no more than 13.4 mm nor less than 10.1 mm, with an aspect ratio of between 1.04 and 1.61.
Translation: "this question is ridiculous." And it is!
No matter what any plastic surgery group researches, it looks pretty safe to say men aren't that worried about smaller nipple sizes. As long as they can't shoot at us during an argument, we're good.
(Oh, and what a gif.)