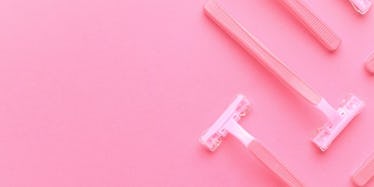 A Surprising Amount Of Men Might Not Date You If You Have A Bush
SHUTTERSTOCK
ATTENTION, LADIES. THIS JUST IN: BOYS MIGHT NOT LIKE YOUR BUSH SO I GUESS YOU HAVE TO GO HOME AND SHAVE IMMEDIATELY.
In case it wasn't obvious, I'm absolutely joking. You do NOT have to shave your pubes for anybody.
Unfortunately, I wasn't really joking about the whole "boys not liking your pubes" thing.
Cosmopolitan recently conducted a survey of 4,146 individuals between the ages of 18 and 35 to see how people would really prefer their romantic partners maintained their pubic hair.
Turns out, men are — and this will come off as shockingly hypocritical for anyone who's ever had the ~pleasure~ of dealing with an adult man's usually unruly genitals — extremely picky when it comes to how the women they're banging maintain their privates.
In fact, 30 percent of them admitted they would literally RECONSIDER DATING A WOMAN BECAUSE OF HER BUSH.
Don't believe me? Check out the results for yourself here:
What really gets me here is that the survey also found that the large majority of men (69 percent) admitted they do their part to groom their wieners simply by "trimming."
First of all, that's free.
Second of all, that doesn't give you razor burn.
Third, YOU'RE STILL HAIRY, SO WE SHOULD BE ABLE TO STAY HAIRY, TOO.
In their defense, the survey does say that the vast majority of women (70 percent) prefer that their dudes keep their privates trimmed over any other grooming method. So maybe they're just catering to what we LADIES want.
Meanwhile, most women (57 percent) reported they keep their privates completely bare. But is it a coincidence that 46 percent of dudes prefer we keep them bare? I don't think so:
This is also just absolute SILLINESS, considering it is your body and your body only. You should be the only one actively deciding to spend hundreds of dollars on waxes every year, and the idea of what men like best should hopefully never influence your decision.
At the end of the day, it seems we're both just catering to what the opposite sex wants.
But what really differentiates things here is, most dudes don't have to worry about us DUMPING them because they didn't groom to our liking.
Why? Well, while a whopping 30 percent of guys (and that's NOT a small amount) said they'd reconsider a relationship with a woman who didn't groom the way he liked, only 19 percent of women said the same about men.
So there's that.
Obviously, ladies (and insecure dudes), if you're actually dating a guy who might dump you because you don't feel like ripping the hair out of your cooter, YOU CAN DO MUCH, MUCH, MUCH BETTER.
Good riddance to that douchelord.