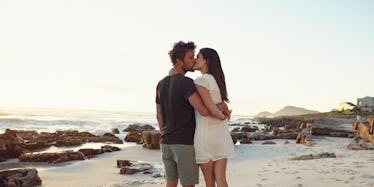 The Last Of The Romantics: A Generation Of Old Souls Participating In A Revolution
If you live in Los Angeles or New York, you're part of the revolution. And if you didn't know there was one by now, you should delete "Downton Abbey" from your iPad and start participating in it. My roommates and I are a part of it because we wake up and live with it every day.
It's a revolution built around ambiguity, in which upon graduating, people in their 20s can move from job to job, faster and more frequently than anyone else. And somehow, if you're an artist or a writer or a temp or an assistant, you manage to stay above water, (or above the polar vortex).
An actor, a writer, a Hollywood assistant and a porn star living together in Los Angeles sounds like the makings for a bad sitcom. And it probably is, somewhere across the world (in Europe, perhaps?). But, we are part of the generation of young adults who replaced the alcoholic writer with the Adderall-driven blogger. Instead of sex, drugs and rock n' roll, we have Spotify, Elite Daily and Spring Break forever.
The lives of the Los Angeles and New York Millennials are colliding and crashing into each other so much that it's soon to become casually quixotic. It's the revolution of the confused, of the crazy and of the wildly narcissistic. In the past few years, Lena Dunham and Mindy Kaling and others have led the Millennial revolution for women, but there haven't been many honest accounts of post-grad life from guys.
One of my roommates is a struggling actor who waits tables and has a long-distance relationship with his girlfriend back East. One of my roommates is a Hemingway-quoting, aspiring writer who manages to be a fine chef on the side. My final roommate has been a very successful porn star for the last two years and now, he deals with his sex addiction on a daily basis. I'm the neurotic Hollywood assistant who's in the process of getting his master's degree in substance abuse.
Together, we live in the West Hollywood; we have late nights of wine drinking, early mornings of exercise and weekends of people watching. We read and we cook and watch everything from "Adaptation" to the "The Apartment." "Boogie Nights" is our bible and Scorsese films are our sanctuary. Maybe this makes us old-fashioned, but it has also kept us in touch with the thriving energy of Los Angeles: a city that acts like a big nightclub full of roads and highways, which rock stars (who dream big and come across small) populate.
The Millennial revolution hasn't just rocked the palm trees of Sunset Boulevard – it's gone to the Venice boardwalk and back to Burbank. It reaches everyone who's unsure about their lives, everyone who questions how they feel when they wake up in the morning.
In New York, it can be found on the streets of Bushwick all the way to the Upper East Side of Manhattan. Upon having a rough day at work, recent grads will come home at night with tensions higher than the midtown buildings. It's about walking a tightrope of safety and security, and if you fall off it, God forbid, you may end up in Hoboken.
My roommates and I are addicted to it. We crave connecting to those around us — those who understand and feel exactly the way we do. In other words, how unbelievably stressful (and some days, incredible) it is to be in our 20s. We find people that agree — if there were an actual test for adulthood, we would fail it with flying colors. But in the most honored cliché of friendship, we get by because (eye roll) we have each other. And because we live in LA, there are nights when you will believe that everyone in this city is your friend and other nights in the city where you won't have a friend in the world. Not even on Tinder.
We never planned on moving out here, but when you've seen "Almost Famous" (the original and the bootleg cut) as many times as we have, it's bound to happen. So now we hustle and help one another through unemployment, heartbreak, and agency auditions.
We are truly a young unit of old souls living in the revolution of uncertainty and this time, it will be televised. In fact, this time it'll be played, recorded and thrown into your Netflix queue for further viewing. But, we'll still be here at the end of the long evening, to cook, to relax, to drink and to talk about our extraordinary, ordinary lives. If only we could hang on to the romance of it for just a bit longer.