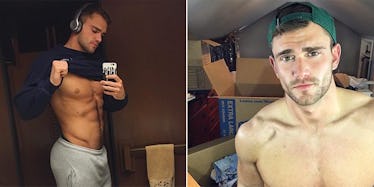 This Is The Hottest Engineer Ever And His Photos Are About To Grind Your Gears
Instagram/Keegan Whicker
Ladies and gentlemen, feast your eyes on the very insta-famous Keegan Whicker.
Keegan is an actual gift from the gods, I tell ya. I can imagine it didn't take him long to garner his 192,000 loyal followers on social media.
I am still questioning how someone can look so scrumptious, but I'll try my best to resist licking my dirty computer screen.
According to his LinkedIn, the 24-year-old's most recent job was as a process engineer for a company based in Georgia.
Because I like to be up-to-speed on my future boyfriend's career decisions, apparently that involved being "responsible for overseeing the braiding production process as well as collecting and analyzing production data for multiple processes in absorbable and non-absorbable sutures and surgical needles."
Now, his Instagram has him labeled as an industrial engineer (whatever that means).
But to be honest, he could be a part-time Jumbotron operator who dumpster-dives on the weekends, and I'd still pounce on those chiseled abs like a panther in heat.
If nothing else, I'd like to meet his parents and thank them. The least I could do is take them out for a nice, seafood dinner.
I mean, just look at him, and then, try to focus on something else. It's damn near impossible.
I could go on and on about the world's hottest engineer. And as a matter of fact, I will.
Below, you'll find some of Keegan's Instagram highlights that'll have you screaming, "ZAAAAAADDDYYYY MAY I?"
Backward hats, you are my weakness.
Does he need any assistance licking the sides?
A guy can do no wrong in gray sweatpants.
There are a lot of things I'd like to call you, sir.
I wouldn't hate a random wind storm right now.
His biceps probably aren't the only thing that's bulging.
"Hottie" is just one word I'd use to describe you.
I would lick the sharpie off his face like it was frosting.
And this should just be illegal.
He's bulging out of his gold-scaled swim briefs, and I am shook.
Nicki Minaj, you better watch ya self.
Dear God, my mouth just instantly filled with saliva.
I'll let you guys know when our wedding date is set!
China patterns, here I come.
Citations: Meet The American Industrial Engineer Who Is Burning Up Instagram (With His Birthday Suit) (The Gaily Grind)