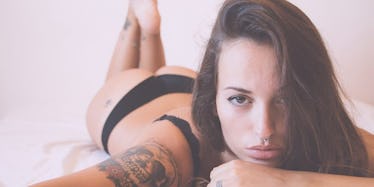 How To Prepare Your Butt For Anal Sex When You're Finally Ready To Go There
Susana Ramirez/Stocksy
It wasn't that long ago that anal sex was totally taboo. A punch line. For porn stars and gay dudes only. But homie, it's 2017 and ain't nobody got time for that old school nonsense. I am a firm believer that you get to do whatever you want do in bed, so long as there is consent — and yes, that includes some good ol' butt stuff. So what's holding you back from giving anal a shot? Lemme guess, you're afraid it's going to get messy because you don't know how to clean your butt for anal sex. I mean, we've all heard the horror stories. And sure, they are beyond cringeworthy.
But the good news is that it doesn't have to happen to you. Why? Because we've got the answers you need so that you can venture forwards (backwards?) into your a future confident enough to back it up whenever the fancy strikes you.
Like all things related to sex, it's just about being properly prepared. In this case you'll also need a few extra supplies and game plan. Sure, anal requires a bit more prep work, but if it's something you're excited to add to you sexual repertoire, it's totally worth it.
Fiber Is Your Friend
If you know anal is imminent, you can do some pre-gaming by eating a healthy diet of solid foods that are high in fiber, specifically insoluble fiber. Think bran, lentils, flax seeds, whole grains, and fruits with skins. You also need to stay hydrated, so drink lots of water. All of this will help keep things moving along regularly and, well… solidly, so that the anal isn't a total bummer.
Enemas Are Not The Enemy
Unfortunately, just splashing soapy water down your butt crack in the shower isn't going to get the job done this time. To prep for anal fun times, you're going to need to do the full spring cleaning — and by that, I mean a water enema. Don't panic… it's not as scary as it sounds. You can pick one up at your local drugstore or on Amazon. It will come with everything you need and instructions on how to use it.
Follow the specific instructions for your kit, but here's the gist of what you will need to do. Find a comfortable place to lay down, like the shower or on a towel on the bathroom floor. Make sure the clamp on the line is closed then fill the bag with warm (not hot or cold) water and hang it above you. Make sure to use lube on the nozzle before you lubricate it so it will be comfortable when you insert it in the anus. Open the clamp to allow the water to enter your body — use the clamp to control the flow. Give the water a few minutes to work its magic, and then head over the toilet to let nature take its course. And tah-dah! That butt is clean.
Don't Forget To Have (Safe) Fun
Now that your rectum is sparkling clean and you're ready to go, there are just a few more things to remember. First of all: Lube. Lots and lots (and lots) of lube. You want to be comfortable, and having the proper lubrication is essential. Also, take it easy, go as slowly as you need to, and pick a position that offers you plenty of control over the pace and pressure, like the spoon position. Most, most importantly, make sure your partner wears a damn condom. You may not be able to get pregnant from anal, but STDs are still a thing!
You now know all you need to make sure your first backdoor adventure is a pleasurable, safe, and clean one. Have fun!
Check out the entire Gen Why series and other videos on Facebook and the Bustle app across Apple TV, Roku, and Amazon Fire TV.