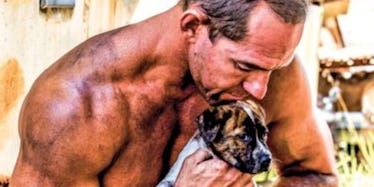 The Sexy Australian Firefighters' New Naked Calendar Is Here, Puppies Included
Firefighters Calendar Australia
I think we can all agree that October is one of the best months. Why?
Because this is the month that AUSTRALIAN FIREMEN GET A LITTLE NAKED AND POSE FOR A CALENDAR, which also helps raise money for the Children's Hospital Foundation and the Westmead Children's Hospital Burns Unit.
Here's Jeff on his way to cure your THIRST.
You just know that 2017 has to be a good year.
That's not because 2016 was the most ridiculous of all time.
It's because these firefighters teamed up with RSPCA and posed with some PUPPIES this year.
JUST LOOK AT THESE PUPPIES, YOU GUYS.
Oh, to be the chocolate lab in Dave's strong firefighting arms.
Michael will save Frosty from being homeless, but will he save ME FROM MY LONELINESS?
Only the hottest Australian firefighters are chosen for the calendar.
Apparently, competition is so tough that they made a documentary about the experience, so maybe Simon, Hugh and Ray were like... Jell-O wrestling?
I don't really care. Tell me about those puppies.
Bouncer? I HARDLY KNOW HER!
Damn. He can save me from a house fire I started by myself due to my incurable pyromania any day.
The calendar's director David Rogers said,
We have now raised $2.1 million to our charities which include, the Children's hospital Foundation, mates4mates and the RSPCA.
You can sexualize these brave firefighters more on their Instagram.
And you can purchase the 2017 Firefighters Australian Calendar here and give your money to a great cause!
(The great cause is your thirst and also helping a lot of children. Win-win.)
This fall, the leaves are crunchy, there are Pumpkin Spiced Lattes a-plenty, Halloween's coming up AND you can feel good about ogling some guys.
Citations: The latest Australian Firefighter's Calendar features abs and puppies (Metro)