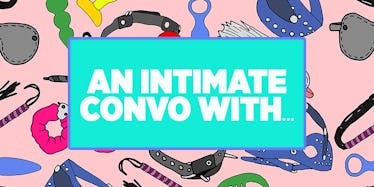 An Intimate Convo With A Financial Dominatrix Who Humiliates Men For Money
Kylah Benes-Trapp
Sex is a topic steeped in judgment. Any conversations about it are never-ending debates of what's right and what's wrong.
That's why I've created this column: a judgment-free forum to discuss sexual trysts, both conventional and not, through intimate Q&As with some openminded individuals.
I've recently been introduced to the idea of financial domination. And I must say, I'm intrigued.
The general concept of this sexual fetish is one submissive party (usually male) will bestow both expensive gifts and large sums of money to their dominant (usually female) in exchange for... well, basically nothing.
This one-sided exchange of money — in which the dom can spend it on whatever she wants — is a turn-on to the sub. He's offering his hard-earned money to somebody who doesn't even appreciate it. And all he gets is complete and utter humiliation.
Confused? Yeah, join the club.
To get more insight, I spoke with Leslie, a 22-year-old financial dominatrix who earns a lofty annual income humiliating men and women online.
Leslie discovered her profession by seeing a hashtag about it on Twitter.
"I decided to click it, and I was shocked, as well as surprised, to see women humiliating weak boys, and it intrigued me," she says. "I thought, 'I could do this. This is what I want to do.'"
Below is our interview. But be prepared, this one's feisty.
Bobby Box: How did you get started as a financial dominatrix?
Leslie: I got started when I made my "AsianFindom" Twitter profile. I post tweets about what I think of useless bitches and loser sluts. If they agree with my thoughts (which is always, because I'm always right!) they follow me.
I've built my following by bullying and embarrassing subs on my profile. It was never awkward because I've always been superior to others.
Growing up, I would bully other kids in my neighborhood. They never fought back or did anything about it because they knew I was stronger and better than them.
I financially dominate through Twitter by completely mind-fucking them. They know they are useless and pathetic bitches, I just make them admit it, then take all of their cash!
They know they don't deserve anything in life, and they feel guilty about having any money or happiness that belongs to me.
They know I am the only one who deserves to be rich and happy, and they are willing to sacrifice and lose it all for me like the obedient pieces of shit they are.
BB: How long have you been a financial dominatrix?
Leslie: This year only, though I've gained a lot of experience already.
I've dominated more than 128 boys and 37 girls. And the numbers keep going up. Don't be afraid to email me, boys and girls. I will ruin you slowly, so it'll hurt a lot more.
I've dominated more than 128 boys and 37 girls. And the numbers keep going up.
BB: How does a financial dominatrix differ from your traditional dominatrix?
Leslie: Not much. They go hand-in-hand.
However, financial domination normally happens online, whereas traditional fem-dom tends to happen in person, during real-time sessions.
Financial domination can happen in person, too, if the sub is willing to pay a larger amount of $5,000 or more.
BB: Is there anything sexual involved?
Leslie: No, absolutely not.
BB: What do you have to do in exchange for this money?
Leslie: Nothing. I just snap my fingers and they send away like the obedient bitches they are.
BB: How do you meet new clients?
Leslie: They come to me. They find me through my Twitter profile.
Most of the time, if not all of the time, they have been stalking my profile for weeks or months. They don't have the courage (because they are scared, sissy wimps) to message me. By that time, they are already helpless and on the edge of breaking.
They know they are helpless and completely fucked when they send me their first message. Which I ignore unless they tribute (send money) first.
No money, no reply. Because subs are useless. I'm only interested in emptying their wallets and savings. Give in to my power. It's MY MONEY; always has been, always will be. I own them.
BB: Can you describe what the standard relationship with a client entails?
Leslie: I wouldn't consider my subs clients. However, it usually entails me degrading and tormenting them with my words and my beautiful selfie pictures until they're on the urge of crying and being completely broken.
I always leave my subs a complete mess and begging for more. They can never get enough of me, and that's how I like it. Keep begging for me to make you broke; give me more. It's never enough.
I won't be satisfied (only my gorgeous alpha boyfriend can satisfy me), but you can try by going deeper in debt for me!
It's MY MONEY; always has been, always will be. I own them.
BB: Do relationships with subs vary? Or do they all follow a similar structure?
Leslie: It can vary depending on the sub, but for the most part, they follow the same structure. I require all my subs to obey and never talk back to me. Also, daily tributes are a must.
BB: So there is no two-way communication between you and a sub?
Leslie: No. I make the rules, and they follow. They have no say in our situation. I am the boss, and they better know it. Or consequences will follow.
I will humiliate and blackmail them or call their wife and expose them for the weak bitch they are.
BB: Explain this fetish to me. Why do clients get turned on by the prospect of financial domination? What's the appeal?
Leslie: It's the thought of being helpless, I think, that turns them on — knowing they could lose everything and that I have the power and control to make them lose it all.
I just take what I want, when I want, then leave them broken and with little to nothing at all.
BB: Do you ever feel remorse for these men? Do you feel as though you're exploiting them?
Leslie: No, I don't. They are all pigs to me.
BB: Describe your typical client.
Leslie: Most of my clients are weak Asian boys and loser Asian girls. Age varies, but older clients tend to pay more.
And they're usually working typical 9-to-5 jobs. On rare occasions, my client might hold a high-paying office job.
His paycheck is directly deposited to my bank account every time he gets paid.
BB: Describe the "relationship" you have with one of your more generous clients.
Leslie: He is required to give me all of his money — or shall I say, MY MONEY — and I give him a small allowance. He must suffer for me.
This means he gives me all of his paycheck, and sometimes part of his wife's paycheck as well, when I demand it.
I organize and manage his spending and what he can eat and buy for his wife. I have access to all of his personal info, in case he misbehaves. His paycheck is directly deposited to my bank account every time he gets paid.
BB: I've read clients will purchase underwear, toenail clippings, etc. from their doms. Has this been the case for you? If so, what do they sell for?
Leslie: They sell for a few hundred up to a few thousand dollars. I've sold my used panties that I wore once for my alpha boyfriend for more than $1,000.
I've sold my old (completely damaged) shoes for more than $200.
BB: How do you refer to your clients? It certainly can't be by name, can it?
Leslie: No. I call them sissies. Or pigs. Anything degrading. Sometimes bitch or slut. They are my bitches.
BB: What's the largest lump sum of money you've received from a client?
Leslie: $10,000.
BB: What's the most extravagant gift you've received from a client?
Leslie: His wife's wedding ring. I wear it as my toe ring.
BB: What is your moniker as a dominatrix?
Leslie: I go by "AsianFindom" because I normally dominate Asian boys and girls.
BB: How do you communicate with clients?
Leslie: Skype and email. I can be reached at AsianFindom@hotmail.com. As for My Skype, only special bitches can earn it.
BB: What's your mosts popular service as a fin-dom?
Leslie: My most popular or requested service as a fin-dom would have to be foot-fetish related. Bitches love my feet.
I do foot worship sessions via Skype. Or in person. I make bitch boys and loser girls worship my feet, but they cannot touch them.
They can only stare from a distance and admire the beauty and power of my soles. This drives them wild, and I've made more than 14 subs orgasm by just looking at my feet.
I've made more than 14 subs orgasm by just looking at my feet.
BB: Do your family or friends know what you do?
Leslie: No, I like to keep this side of my life private. Having said that, my boyfriend and cousin know. And I wouldn't mind if my family found out, but I don't feel the need to tell them.
BB: Do you have a job outside of financial domination? Or is this a full-time endeavor?
Leslie: I basically do this part-time or whenever I feel like. I consider myself an entrepreneur.
I'm inspired by art and music. Singing is one of my favorite hobbies. I also enjoy technology and the aspects of media broadcasting.