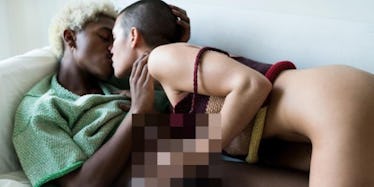 This Brand's Crazy Fashion Campaign Features Real Couples Actually Having Sex
Eckhaus Latta
If sex sells, then fashion brand Eckhaus Latta's sales are about to go through the ROOF. (Beware: That link is super NSFW, but so is this one, so you obviously don't seem to care about that.)
Why, you ask?
Well, the ad campaign for their spring 2017 line features nothing but a bunch of pictures of models of all sorts of genders and races doing the dirty in expensive designer clothes.
They announced the launch of the raunchy new campaign with the Instagram post below of a girl lying spread eagle in bed as her partner simultaneously finger-blasts her and kisses her neck.
And it only gets raunchier from there.
Every photo from the shoot (which was shot by Heji Shin, directed by Eric Wrenn Office, styled by Avena Gallagher, casted by Sam Muglia and produced by Frank Seidlitz) features a different couple in a different sexual position.
There's this one of a dude getting a handy from his parnter.
There's this one of yet another lucky dude getting a handy from a hot girl.
There's this one of a girl giving a guy a blowie.
There's this one of a couple banging as the guy grabs his girlfriend's bare ass.
There's this one that honestly confuses me. (Which legs belong to whom??)
There's this one of a couple mid-anal.
And finally, there's this one of a couple having spoon sex.
According to The Cut, this type of content isn't out of the norm for Eckhaus Latta. They've always been a pretty progressive brand and have even hosted gender-fluid runway shows in the past.
Cosmo reported the campaign's photographer, Heji Shin, even photographed a sex ed book for teens a few years ago.
If you ask me, this campaign perfectly embodies cool. It shows real people doing real things, and it makes them look absolutely dope while they do it.
I'm a fan... now, time to figure out a way to afford the $200 tank tops featured on their site.
Citations: This Fashion Campaign Shows IRL Couples Having Sex in Fancy Clothes (Cosmopolitan), This New Fashion Campaign Features Real-Life Couples Having Sex (New York Magazine: The Cut)