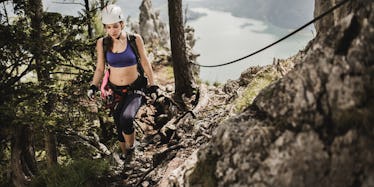 Easy Access Sex No More: Why Holding Out On Sex Can Sometimes Lead To Amazing Relationships
Stocksy
So you've been talking to him for couple weeks, you've had a few sleepovers, and he COULD have asked for sex, but he didn't. Yeah, you fooled around, but you didn't quite have sex. That makes him a good guy, right?
The "he could have tried but he didn't" type? The "he waited patiently so he deserves it" type? So now you think, why not? He was so respectful and waited for it, so he should get it. He must not have talked to you for just that reason, right? Right? Then you give it up. Ahhh…
So now he's the "he doesn't have time for me," "he doesn't call me," "only treats me like a booty call" type? Yeah, well, duh!
Sex nowadays has become so accessible. Most women sleep with a man and create this bond in their minds as an automatic reaction to the act of sex.
Most men, well, they do not. Women tell themselves that if a guy is patient enough and able to not ask for it the first few chances he had, then he must respect her physically. He must really be into her to hang out with her and not want to have sex.
Moreover, these women convince themselves that since he was so patient (for a few sleepovers and a couple weeks, for example), he now deserves it.
It's a little known fact that most men meet a woman and think, "I want to have sex with her." I mean, really, who wants to date someone they wouldn't want to have sex with? Even virgins plan to have sex with their significant others at some point, so it's on their minds, too.
But in all honesty, men don't initially think, "I see myself dating her for a really long time, marrying her, having children and a home with a white picket fence." They see sex. They figure out how they are going to get it, until they actually get it. Yeah, some stick around after. But some don't. And this is why: easy access sex.
It's been said time and time again, the age-old, "women need to have standards" speech. Sadly, I believe it's true. Yes, we know we have the standards of what type of men we want to be with -- what he needs to look like, his income, his car, his social life, etc.
We spend so much time talking about this, but where in our minds, in this day and age, are the standards for what a man has to do to get some nookie?
What ever happened to a man truly courting a woman? What about proving that you're worth the connection that we, as emotionally invested females, sometimes (most times) innately connect to sexual encounters?
It blows my mind that we think, "he was nice to me, he texts me good morning, he calls me babe, he invites me over (at 2 am) to spend the night" means "I really like you and respect you and I deserve to be with you intimately." We give it up too easily.
We do this because we are under the impression that it will satisfy the soul to have physical intimacy with someone we like. Of course, this entire article is a very general statement.
'WE' does not mean ALL women. I'm speaking vaguely, but a very large number of women (no fingers pointed) sleep with men in the very early stages of a relationship, after a man has done nothing to earn that privilege (and yes, it is a privilege) and then wonder why the man stops calling or stops bothering with them.
Like I said, men want sex. That's evident. It's human nature. Men are also hunters. They go after what they want. If they want sex, and you lead with sex, they will take it, and the hunt will be over. That much is apparent.
He didn't have to take you out, wine and dine you, introduce you to his friends or family, or invest in you, but he got what he wanted. And you, well, didn't. You probably saw a relationship budding, or at the very least thought you saw some form of long-term consistency.
So, ladies, here's what I suggest. Set some standards. A man who has no patience to play the waiting game really isn't interested in you; he's interested in the sex.
If he can't get it easily and anytime soon, he's likely done if you don't give him something more substantial to desire. A man interested in you, and interested in getting to know you, won't mind the wait, and more specifically, he won't mind the effort.
Effort doesn't mean NOT doing anything, like NOT trying to have sex with you. Effort means actually DOING something, like taking you out, making you feel like a priority and showing you he respects you. That old-fashioned 90-day rule is probably looking like a good idea now, huh?
The idea is, by the time a man has invested time, money, effort and feelings into a woman, (that 'hunt' concept) and the woman is ready to sleep with him, that man will have already invested too much in her to just walk away after getting sex.
Now, HE will be equally invested in the relationship. I mean, this isn't true for all men, as some still walk away because they're douches, but most men, if they like/love you, will respect the waiting game (for a reasonable amount of time) and they will put in the effort. They will have already found more things besides sex that they now want to hunt for.
Wouldn't hurt to give it a try.
Top Photo Courtesy: We Heart It