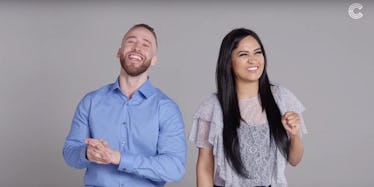 Couples Uncomfortably Discuss Exactly How They Dirty Talk In Hilarious Video
YouTube
Dirty talk is something that's just inherently embarrassing.
No matter how much you love being told your "pussy is so tight" behind closed doors (that are also padlocked shut), odds are, you don't want to be taking that convo out into the open.
But can you imagine how awkward and hilarious it would be if you and your partner were forced to dirty talk to each other outside of the bedroom... and on camera?
Well, IMAGINE NO MORE. There's a video out there asking couples to do just that.
Just take a look at this girl's facial expression while her boyfriend discusses their dirty talk habits on camera:
I think that pretty much sums up all our thoughts and feelings when it comes to how awkward dirty talk is when you're not actually having sex.
My new favorite video from Cut got real-life couples to get in front of the camera and share their dirty talk, and the results are obviously MAGIC.
Some of the best lines include but are not limited to this dad who explained, "We can't talk dirty, we've got the kids! We're gonna wake them up! So we've gotta think dirty."
And then, of course, there's the guy who admitted to accidentally demeaning his partner sometimes. "There are times where I'm like 'Yeah, bitch,' and then afterward, I'm like 'I am so sorry.'"
Then, my personal favorite is the lesbian couple who has trouble calling out each other's names in bed because they're both named Amanda.
How great are these couples? Awkward, weird and, somehow, still totally relatable MAGIC. Right!?
If you didn't really find the whole video quite as awkwardly hilarious as I did, I hope you at least managed to get a little peace of mind out of it.
BECAUSE SEE? YOU'RE NOT THE ONLY ONE WHO DIRTY TALKS. YOU'RE NOT WEIRD. YOU'RE NORMAL. Congrats!