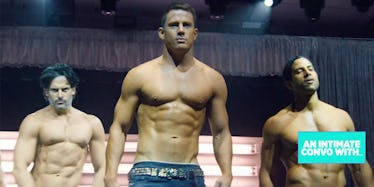 An Intimate Convo With A Male Stripper Who Plays Christian Grey On Stage
Warner Bros.
Female strip clubs are generally more successful than male ones.
While the reasons around this may vary (men are generally more pervy, women typically aren't as visually stimulated, etc.), I believe an overlooked reason is that it takes A LOT more work to put together a show full of men that will appeal to many women.
By this, I mean a man can't just hop on stage, lazily dance to a song as his eyes ignore the audience and walk off the stage with a few hundred bucks.
No, a woman's taste in live, nude entertainment is more discerning. She'll only shell out cash for a quality performance — a production, if you will.
When I was searching for a male stripper to interview for this column, I consulted my rolodex to find The Hollywood Men, the male revue show that inspired the infamous "Magic Mike" film.
In a previous story, I chatted with the show's CEO, owner and creator, Scott Layne Wisman, who told me Steven Soderbergh and Channing Tatum both attended a show of theirs under vague pretenses. A few years later, "Magic Mike" was released.
"We've been sold out every night since [the film's] release, and it didn't hurt that they used our show as the main source of research for the film," Wisman said. "Many elements of the movie seemed to be taken directly out of our show."
Aside from the fact that the film brought both eyes and dollars to The Hollywood Men (and the male dancing profession in general), neither Wisman nor the show were credited in any way for its obvious part in the film.
A quick perusal of the The Hollywood Men website shows Scott's likeness and wardrobe were very much the inspiration for Matthew McConaughey's character in the flick.
Wisman put me in touch with one of his newest recruits at The Hollywood Men: 28-year-old Tyler Kolodny, who currently plays Christian Grey on stage.
Kolodny has been with The Hollywood Men for four months, working regular shifts on Friday and Saturday nights, where dancers earn an average of $400 to $500 respectively, according to Kolodny.
Below, he takes me on a journey behind the scenes and explains what it's like to be a real "Magic Mike":
Bobby Box: How did you become a stripper?
Tyler: I always liked working Friday and Saturday nights as a bartender. And as a bartender, I was giving lap dances for girls' birthdays.
I was bartending and partying for a friend's bachelor party at their house. One of the guys hired three female strippers for the party. It was fun, and I was shocked how much money the girls made for dancing for just a few hours.
One of the guys at the party was a former Chippendales performer and loved my look and energy. He asked me to join him and his crew with The California Bad Boyz on the road and asked me to go on tour to New Mexico, Texas and Louisiana for a male revue show for two weeks starting the following weekend.
I was shocked how much money the girls made for dancing for just a few hours.
I figured, why not? It went really well, and the rest is history. I've since evolved as a dancer and am now very proud to be a full-time dancer with The Hollywood Men.
BB: How did your family react to your profession? 
Tyler: They are fully supportive, as long as I don't prostitute.
BB: Has your career had an impact on your relationships with women? 
Tyler: No. Either the girl accepts and supports what I do, or I will find another one. This is my profession, and I enjoy doing it.
BB: Male strippers are typically in extraordinary shape. What kind of diets do you adhere to? 
Tyler: I eat TONS of vegetables and nuts. Then, some fruit (I watch the sugar, though) and meat.
No soda, sweets, breads, doughnuts, candy, Gatorade (too much sugar), gluten or artificial sweeteners for me. I watch out for preservatives and high sodium as well.
BB: Are abs a requirement in stripping? I mean, are there ever dad bods on stage? 
Tyler: If you want to be a good stripper, then yes. Girls pay to see beautiful men and sexy bodies. The only physical aspect sexier in a man to a woman is their smile.
So yes, cut abs and being in great shape are important. If there is a man with bad abs, he either won't get tipped well and/or he'll be replaced really quick.
BB: How important is the size of a man's package in the stripping profession?
Tyler: Honestly, it's irrelevant. Confidence is everything, not cock-iness [laughs]. Yes, I love taking my pants off and showing off my package. It's a good sight, sure, but penis size is overrated in this profession.
I've seen some amazing dancers not go on stage because they were scared their penis wasn't big enough, and that's unfortunate because the ladies would've loved them.
BB: What is the audience's favorite "role" or "occupation" a man plays on stage?
Tyler: I want to start by saying the performer is WAY more important than the role. I can take a shit on stage and the audience would love it [laughs].
The performer is WAY more important than the role.
But in all seriousness, I'd have to say a firefighter. But then again, what girl won't get a little wet when Christian Grey walks on stage?
BB: Do you need a professional dancing background to be a male stripper? You guys have got moves!
Tyler: No, but it will help. Stage presence and confidence are most important.
I have a solid dancing background now that I've started with Hollywood Men, but I had no dancing background when I first started. I just walked on stage raw, and it worked out great.
BB: How often do you rehearse for a performance? 
Tyler: Often if it's for a new dance or choreography.  However, once we have it down, not too often at all.
Each dance is different depending on the amount of performers in the act or if it's a solo act. It will obviously take more time when there are moving parts. On average, I would say several hours in studio, and a few hours at home.
BB: What are some of the more popular tracks used by male strippers?
Tyler: I use "Gasolina" by Daddy Yankee, "Birthday Sex" by Jason Derulo, "Chains" by Nick Jonas, "Cookie" by R. Kelly and "Danza Kuduro" by Don Omar as my go-to.
I also use "Earned It" and "The Hills" by The Weeknd for my Christian Grey act, and that always gets the audience excited.
But generally speaking, every dance show has "Pony" by Ginuwine — that's always a slam dunk.  Enrique Iglesias has one — "Tonight I'm Lovin' You" — that brings the house down as well.
I absolutely love country music, but it doesn't work nearly as well as other genres in male revue shows. Also, women seem to react better when it's a male singer over a female singer for some reason.
BB: What is the most popular request from audience members?
Tyler: Private lap dances. The more they pay, the longer they last, generally. Or, if the girl is turning me on as much as I'm turning them on, it will last all throughout the night and into the morning [laughs].
BB: What is the oddest request you've ever received in your career? 
Tyler: A group of girls once asked me to play the role as a pizza delivery boy and dance for them. So I did.
This instance was at a private party, so I got the pizza with the outfit and all. They ate the pizza, too! The birthday girl for that party apparently lost her virginity to a pizza boy, which explains the request.
A group of girls once asked me to play the role as a pizza delivery boy and dance for them.
I personally don't do private shows anymore. WAY too many girls were drunk and always grabbed my package. I mean, what if guys hired female strippers and just started grabbing the girls' vaginas?
Also, some private parties I would show up to had underage girls, and I had to leave.
BB: Do you/strippers in general have clients you like more than others? I mean, a lot of strippers like to say, "You're my favorite," but are there instances where that is true?
Tyler: With human nature, we obviously like the clients that tip more. However, our favorite clients/audience are the ones where they let loose, have good time and enjoy the moment. The more smiles and laughter the better.
I personally love when groups of girls come to celebrate their birthdays, bachelorette parties or divorce parties.
Not going to lie, though, my favorite people to dance for are the grandmas! Seeing their smiles and having a great time are priceless! Grandmas coming to see The Hollywood Men is a better way for anti-aging than stem cells.
BB: Are male strip clubs more physical or sexual than female strip clubs? 
Tyler: Sexual. The thought of it is more powerful than the touch.
BB: What are the main differences between male strip clubs and female strip clubs? 
Tyler: Guys are honestly kind of creepy at female strip clubs, in my opinion. Guys pay to see girls naked. Most guys there can't get any and that's why they go. The girls on stage are often broken and smell like an ashtray, too, and are ONLY there for the money. It is not a party and not an exciting feeling.
Girls at a male strip club are much more fun, exciting and loud. It's basically a big party! It's not only about seeing the dancer with their clothes off, but seeing how the men take their clothes off.  It's a show with lots of roleplay; it's very theatrical.
It's about having fun, taking pictures and enjoying the experience. Making money for the dancer is definitely part of it, but it's always a party, and we look forward to performing on stage. No shame in the game! In my opinion, it's much more positive and fun at a male revue show.
BB: What are some things that might surprise us about female audiences at a male strip club?
Tyler: ALL girls love it! The rowdy, quiet, outgoing, skinny, fat, shy, old and young girls all love the experience! Every girl from every background and ethnicity are welcomed.
I've had great experiences dancing for girls who don't even speak the same language. I love dancing for diversity and love to bring the house down, giving everyone a great night of entertainment.
BB: Is this a full-time gig for you? If not, what else do you do for work?
Tyler: I'm a wildland firefighter, currently training with LAFD and preparing for the Fire Academy.
Also, I've been a baseball coach for years, giving private lessons for collegiate and professional baseball players, as I played seven years of professional baseball.
BB: Did you find "Magic Mike" to be fairly representative of the male stripper?
Tyler: More or less. They definitely put a little Hollywood on it, but the movies were relatively accurate for sure.
I didn't like how "Magic Mike 2" made it seem like the dancers were not the brightest people, though. I'm well-educated and have a great career as a firefighter outside of my dancing profession.
BB: Are there any misconceptions about male strippers that you'd like to clear up? 
Tyler: Yes! Most male dancers like to be referred to as "exotic dancers," not strippers. Sure, there are many aspects of stripping involved in the show. However, this is a show, and we're all dancers and performers before we're "strippers."
Most male dancers like to be referred to as "exotic dancers," not strippers.
We dance, show our healthy bodies and great smiles to our audience and have fun doing it. Stripping into our thongs is just a small portion of our show.
I've never gone fully nude. I mean, I would, but it's illegal.
BB:  Please don't take offense to this, but how much body oil is required for a show per dancer? 
Tyler: I personally never use oil.