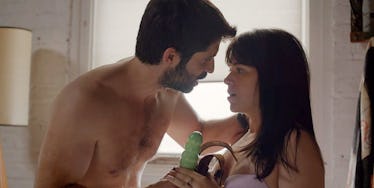 How To Bring Up the Possibility Of Pegging With Your Boyfriend
Comedy Central
While pegging might be a topic that we're seeing more often in mainstream media (like in the movie "Deadpool," and well… Elite Daily), it can still be a taboo subject.
We all know by now that butt stuff isn't just for straight women and gay men; it is for everyone who has an anus. Anal play does not discriminate between gender identities and sexual orientations. People have finally seemed to clue in to the fact that anal sex feels really damn good.
It might have something to do with the thousands of nerve endings, the prostate gland or the g-spot targeting angle… you know, just maybe.
Pegging is usually described as a woman giving anal sex to a man by use of a strap-on. While we are talking about girlfriends pegging boyfriends, please don't forget that pegging ignores gender roles and can be used to describe anyone giving anyone anal sex by use of a strap-on.
As a cis woman, the idea of pegging is insanely hot. I get to explore different areas of my boyfriend's body, allowing him to discover new pleasure centers. I also get to quite literally fuck him. He gets the enjoyment of watching his phallus enter inside of me, so I get to do the same. It only seems fair.
Although you might like to jump straight into pegging, there are some steps to properly bring up the topic without having your guy flat out refuse.
I would highly suggest letting your man explore your anus. The first reason is that it can feel amazing for you and I don't want you to miss out. The second reason is that you're in this together. If you understand what anal play feels like, then you are more prepared to play with someone else's anus.
It can also ease your guy's mind about it not being a taboo subject. If you refuse (and you have every right to refuse), then he might be less willing to try it himself. Do not do anything you are not comfortable with - make sure you communicate any concerns.
It doesn't have to be with a penis. Anal play can feel good with a finger, a butt plug, a dildo (with proper flared base) or a penis. In fact, it is a good idea to start small with a finger and work toward larger objects like sex toys.
This is a good idea for you, but also an excellent idea for your guy. If your goal is pegging, then you still need to start slow. Start with exploring his prostate with a finger.
From my experience, most guys are hesitant about this and then end up really enjoying it. The trick is to add a LOT of lube to your finger and the butt hole. (And cut your nails!) Once you've both mastered the finger, then you can consider introducing a toy.
There are butt plugs in various sizes as well as sex toys for beginner pegging. Toys made specifically for pegging are often skinny, smooth and non-realistic looking (aka: they don't look like a dick). If you're introducing toys into your anal play, then consider choosing some that your man would be interested in trying.
A great idea is to shop together, or find a bunch that you think could work and have him pick out the one he likes the most. You can share toys, just make sure to properly sanitize them before switching orifices.
If you've introduced anal play with fingers and toys, but still haven't done any pegging, then it is time to bring up the topic. I started to talk about pegging by reading non-fiction erotic stories and sending them over to him. You have this really steamy story written judgment-free by someone on the internet.
By sending it to him to read on his alone time, he can let his imagination go wild without feeling any pressure to react in a certain way. There are plenty of pegging recounts online, but I don't suggest bombarding his inbox. Pick out one or two really hot ones and forward them to him. He'll have some time to think before you have a conversation about it.
Keep your conversation 100 percent positive and judgment-free.
I talked about how sexy I thought it would be to experience being inside of him. I also talked about how I think it would pleasure him and his beautiful prostate. We ended our first conversation with "not ready but working on it." I call that a success!
When you are getting closer to trying it, there are three essential components that you will need to buy: a harness, a strap-on and lubricant.
Obviously, he should be involved in choosing the strap-on because it is going inside of his body. He should be involved in shopping for the harness so he can start to feel comfortable picturing you wearing it.
There are so many different kinds of harnesses out there, and it is important for both of your comfort to discuss which one. You don't really need to shop for the lube together, just make sure that it is compatible with the toy material (silicone lube is not for silicone toys). Often a water-based anal-specific lube works (it is a bit thicker for added padding).
Just because you've bought everything, doesn't mean you can rush into pegging. You still need to fully respect his boundaries. You can always try anal play with the strap-on you chose without putting it in the harness first. Get his bum used to the toy before strapping it into the harness.
Bringing up the possibility of pegging with your boyfriend can be a quick feat or a really long, drawn-out one. It is important not to pressure him, to communicate any desires or concerns and act like a team throughout.
You're both trying this out for the first time, so go easy on him! On your side, you can prepare by reading "how-to" guides. If you've only ever been on the receiving end of things, then you might need some tips and practice yourself. Keep informed so you can both have the best possible experience.
I know you're concerned about what happens if you buy all the equipment and there is still no pegging? Easy solution! Just have him suck your dick… literally. I promise it is one of the hottest things you'll ever do. The harness and toy will be worth it. Any other tips to bring up pegging with a partner? Let us know!