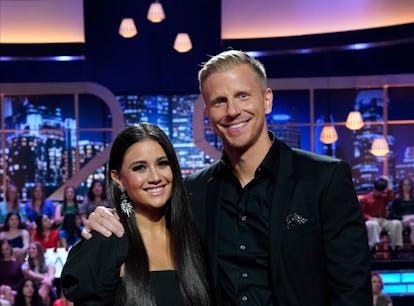 A Look Back At Sean Lowe & Catherine Giudici's Body Language Over Time
They've been together since 2013.
Craig Sjodin/Disney General Entertainment Content/Getty Images
The Bachelor is famous for a lot of things, but helping people find lifelong romantic matches isn't necessarily one of them. Although each season usually ends with a proposal, most of the couples don't wind up making it in the long haul. There are, of course, a few exceptions to that rule. For example, even after nine years of marriage, Catherine Giudici and Sean Lowe's body language proves that the couple is still very much in love.
"These two are thick as thieves and show an amazing amount of consistency throughout their relationship," says Traci Brown, body language expert and author of Persuasion Point, after examining their photos over the years. From getting engaged on national television in 2013, to tying the knot in 2014, to having three children together, the couple has been through a lot, but Brown says they've maintained their intense love for each other.
Ready for a rosy trip down memory lane? Take a look at these images, and see firsthand how Sean and Catherine managed to make their love last.
This article was originally published on