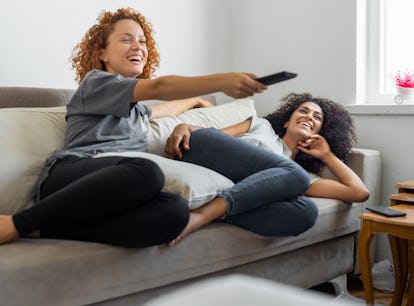 The Rom-Com You Should Watch On Valentine's Day, Based On Your Zodiac Sign
bymuratdeniz/E+/Getty Images
Is there anything better than snuggling up with your favorite romantic comedy on Valentine's Day? Even if you don't have a SO to celebrate with, turning on a movie about love and all of its quirks can be a great way to channel your inner romantic this February. But let's be honest: there are a lot of movies to choose from. So to help narrow things down, I figured out the one rom-com you should watch on Valentine's Day, based on your zodiac sign.
OK, so watching a romantic comedy based solely on your astrological chart may sound a little out there, but if the stars can impact your interests, personality, and tastes, why not use them to pick out your next rom-com flick? By channeling your zodiac sign, you might just discover a movie that will speak uniquely to you.
Whether you're a fire, air, water, or Earth sign, there is a rom-com plot that will give you butterflies — yes, even if you aren't a die-hard astrologer. No matter how closely you follow your horoscope, these romantic comedies are worth watching. So grab your remote, get ready to add to your queue, and keep this list in mind for your Valentine's Day plans.
No matter what your zodiac sign is, there's a rom-com that will help you embrace the Valentine's Day spirit. And if you want a longer movie marathon, check out the recs for your moon and rising signs.