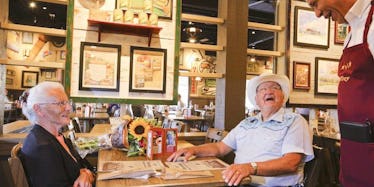 This Adorable Old Couple Finally Reached Their Goal Of Visiting Every Single Cracker Barrel
PortlandEventPhotography.com
I LOVE The Cheesecake Factory. A big dream of mine would be to go to every Cheesecake Factory in the country, and if my love of my life wanted to go on that journey with me, then OMG PINCH ME! And for one adorable elderly couple, Cracker Barrel was their Cheesecake Factory... except their dream became a reality. Yes, Ray and Wilma Yoder visited every Cracker Barrel location.
"Cracker Barrel is our home away from home," the couple said in a statement. "During our visits to Cracker Barrel stores over the past 40 years, we have made friends across the country and enjoyed making wonderful memories together."
The Yoders have spent the past 40 years of their lives driving their RV around the country, visiting every single Cracker Barrel, according to BuzzFeed News. Finally, this past July, the couple had officially visited 644 Cracker Barrels. What is so significant about visiting 644 Cracker Barrels? Well, aside from that being an INSANE amount of Cracker Barrels to have visited in your lifetime, it meant they were just one location shy of achieving their goal of visiting every single one.
But this past Monday, Aug. 28, their dreams came true after they officially visited the 645th Cracker Barrel in Portland, Oregon! In fact, Cracker Barrel got wind of the Yoders' goal, and they even surprised them with a trip to the destination. When they arrived, the Yoders were given the full star treatment. They were greeted by cameras and cheers from the entire staff.
Is that Kimye or is that the Yoders entering Cracker Barrel?! I HONESTLY CAN'T TELL.
The two were personally escorted into the restaurant by Cracker Barrel staff members.
And, to make everything better, IT WAS ALSO RAY'S 81st BIRTHDAY! I mean, just look at his face while he gets ready to enjoy their delicious Cracker Barrel meal.
It's not just Mr. and Mrs. Yoder whose lives have been lit up by the regular Cracker Barrel visits. Cracker Barrel wrote in a statement, "For the past 40 years, Ray and Wilma Yoder have touched the hearts of Cracker Barrel employees across the country."
They continued:
We are thankful to have served them so many times over the years and honored to have been a part of many happy memories they have shared during their 60 years together. So many of us have our own personal stories about times when the Yoders stopped by our stores to pay a visit and we look forward to many more. Thank you, Ray and Wilma.
You have a favorite restaurant chain? I DARE YOU to take a page out of the Yoders' book and gain this sort of respect.
Check out the "Best of Elite Daily" stream in the Bustle App for more stories just like this!