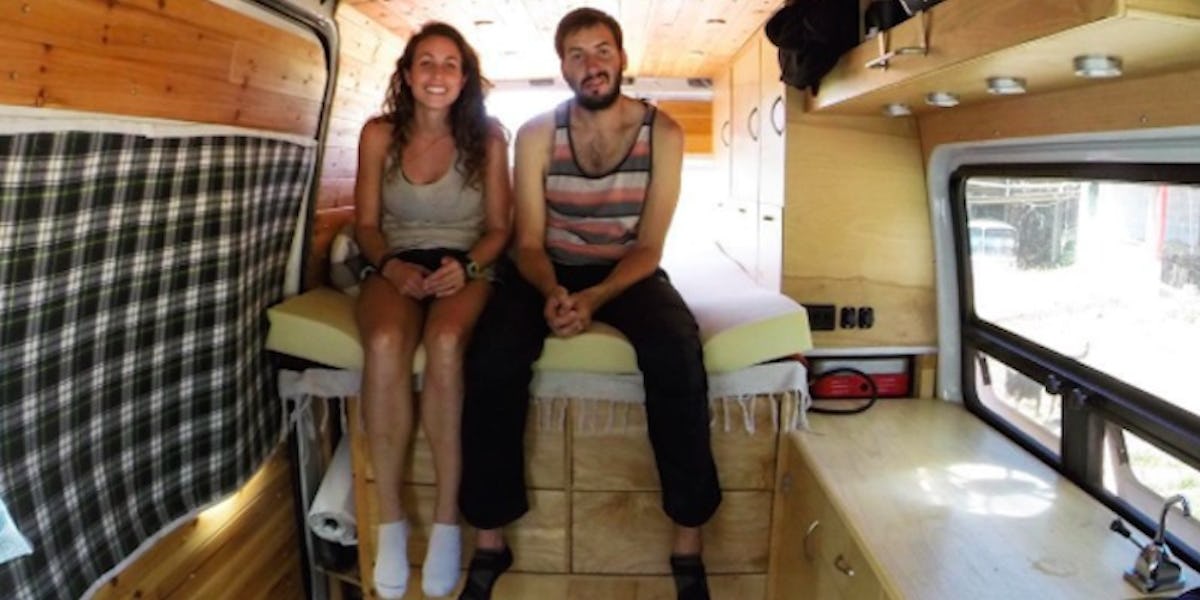 This Ivy League Couple Quit Their Corporate Jobs To Travel Across The Americas
Instagram
Ready to have your heart melted into a giant pile of liquid mush?
Two super hot Ivy League graduates (yes, some people really do have it all), Nikki Levi and Jakob Celnik, decided to quit their corporate jobs to restore an old van and travel 38,000 miles across the Americas with their dog.
Initially after graduating from University of Pennsylvania's Wharton School, the couple decided to follow the path of any self-respecting business school student and join the finance industry.
Before moving to Apple, Levi worked at Citigroup in New York as a high-yield credit-research analyst (don't worry, I don't know what that means either) for four years. Celnik also worked in New York at the Blackstone Group for about three years before he moved to Soros Fund Management to probably do more things I don't really understand.
But then the two did something unprecedented -- they quit. They quit their jobs, bought a van and, along with their dog, Leika, drove 38,000 miles across the Americas.
In an interview with Business Insider, Levi explained,
While leaving our jobs, we were terrified... But in hindsight, we shouldn't have been ... We cannot buy time, so we try to enjoy the time we do have doing the things we love, with the people and animals we love.
How would spending 16 months trapped in a van with your significant other affect your relationship? Well, Levi painted a little picture for us: "Being in a van was like a pressure cooker on our relationship."
That being said, she was careful to note that really being "in it together" and forced to "solve every problem together" was difficult, but it was ultimately good as it made their relationship stronger.
The two decided to get married after reaching Argentina and returning back. No, this is not an adorable indie movie that absolutely crushed at Sundance. This is real life.
Nikki, Jakob and Leika set off for their journey in May 2014. Let's live vicariously through their absolutely incredible adventure with these awesome Instagram photos I've handpicked for your viewing pleasure:
Here's Jakob putting the finishing touches on the van.
Here's the trio ready to start their journey.
Here they are making tacos somewhere really beautiful.
Here they are "showering" in what I promise looks nothing like my microscopic NYC shower.
Here is the van just chilling at some really cool spots.
Here they are after a wrong turn went right.
Here is Leika being a total cutie.
Here they are being goofy and adorable.
And here too.
And here!
OMG, and here.
Ugh, and here!
Are they kidding with this one?
Wait, I can't not include this.
I've said it once and I'll say it a million times again: LOVE IS REAL.
Citations: A couple quit their high-paying corporate jobs to go on an epic 38,000-mile, 16-month road trip (Business Insider)