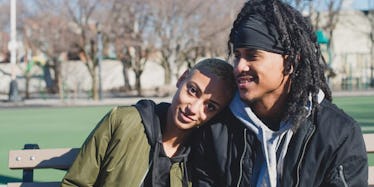 9 Qualities You Have That Could Make A Guy Think You're Out Of His League
"No I can't go for her. She's way out of my league."
We hear people talking about other people being "out of their league" like this all the time, but as far as straight dudes are concerned, what does put someone "out of their league"?
Odds are, you're probably pretty curious (or at least, you've wondered about it before), so let's get down to it.
A recent Reddit thread asked guys to reveal exactly what made them know a girl was out of their league. So in case you didn't already know you were out of these random guys' leagues, here's how to know FOR SURE if you are.
You've got plenty of options.
You like him (and he just so happens to be extremely insecure).
You aren't boring.
You're hot and (get this) you have a personality.
You're more financially successful than he is.
You've got good street cred.
You're really good at video games.
You have deep, beautiful, soulful eyes.
You just tell him, duh!
Just to be clear here, this is just a bunch of random people's opinions.
YOU KEEP BEING YOUR COOL, AWESOME SELF, AND I PROMISE YOU'LL BE OUT OF EVERY DORK'S LEAGUE.