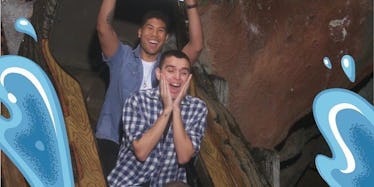 This Guy's Perfectly Timed Proposal To His BF Made A Huge Splash At Disneyland
Reddit/@Eugenius310
Looking for a story to restore your faith in love again?!
BOY, OH BOY, do I have just the adorable story for you.
Reddit user, Eugenius310, proposed to his boyfriend Chris this past Monday on the Splash Mountain ride at Disneyland. Why Splash Mountain? Because it's Chris's favorite ride, duh!
Eugenius310 himself tells Elite Daily the background behind his adorable proposal story.
He explains, in addition to recently celebrating their one year anniversary, he and Chris were going to be moving soon in order for him to go to grad school. He knew, then, that it was the right time to pop the question.
As far as deciding where to propose went, there was no doubt in his mind that Disneyland was the perfect destination.
You see, Disneyland wasn't a random choice for their proposal destination. Eugenius310 says, "Chris encouraged me to get an annual pass a year ago and we've been going every month since." He continued, "His favorite ride is Splash Mountain, so I knew I wanted to do it on that ride."
A couple months ago, Eugenius310 saw a woman come out to her mother on Splash Mountain. He tells Elite Daily, "I thought it was amazing and that's when I got the idea to propose on the ride."
Even though the proposal just took place this past Monday, Eugenius310 has had it ready to rock for months.
"I made the sign in February right before my brother was deployed to Japan with my niece and nephews," he said. "I knew I wanted them to be a part of it because they love Chris so much!"
When the day finally rolled around, the park happened to be extremely busy. But Eugenius310 was pleased to find out that the line for Splash Mountain was just a short five minutes. He wanted to get it out of the way first so Chris wouldn't start getting suspicious: "I was so nervous about the proposal and I didn't want him to see the sign in my pocket."
He managed to get the attention of a cast member who was more than happy to help arrange for them to get their very own log on the boat for the proposal. He says, "Chris didn't realize what was going on and I was able to do the proposal without any spoilers!"
Before they boarded the roller coaster, Eugenius310 told Chris he wanted them to "pretend to be shocked for the on-ride camera." Chris followed along, still not knowing what was going on.
But then, when they finally got off the ride, that's when the magic happened: "When we got off the ride, he saw the photo and cried. I got down on one knee and asked him to spend the rest of his life with me."
And the two lived happily ever after.
That's it. IF SOMEONE DOESN'T PROPOSE TO ME ON MY FAVORITE RIDE, THEN I'M SAYING NO.
OK, just kidding. I hate rides. But I want something equally romantic.
Citations: This Disneyland Splash Mountain Proposal is Just Too Damn Much (Cosmopolitan)