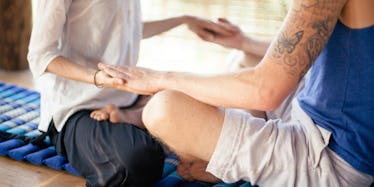 4 Weird Things People Have Paid Me To Do To Help Them With Their Love Life
Nabi Tang
I accidentally started the business, Bridesmaid for Hire, three years ago.
I was fed up with paying top dollar to be a bridesmaid for my long list of "friends" (aka people I used to be friends with and grew apart from since graduation day). Yet walking down the aisle as a member of their wedding squad seemed to hijack all my work vacation days and prime-time, warm-weathered weekends.
After distant friends of mine asked me to be their bridesmaid, one thing I noticed was that not everyone has a close group of friends to turn to when they get married. In order to have a supportive and reliable bridal squad, you might need to ask distant friends you haven't spoken to in many years or hire a stranger.
Since starting Bridesmaid for Hire three years ago, I've worked with over 60 clients on their wedding day as a "professional bridesmaid." Through my work as a professional bridesmaid, I've helped people find ways to explain their love, end their love, and even help their friends find love.
It also turned out that people needed that third party, stranger-like, gal-pal support system to help them with not only wedding "situations," but life situations.
I've started to realize I'm more than just a hired bridesmaid; I'm a friendstitute. Someone who is hired to do things their friends would do for them, but they'd rather someone they don't know do for them instead. One of those things is helping them with their love life.
Here are some of the things people have paid me to do to help them with their love life:
1. Break Off Their Engagement
One thing I've come to understand and see firsthand is that just because a couple is engaged, doesn't mean they will make it down the aisle together.
I once had a woman hire me because she wanted to end her engagement and she didn't know how. Not only did she not know how, she also didn't want to admit this to anyone but a stranger – like me.
She sat me down and told me she agreed to marry someone she was falling out of love with, but also lived with and had been with for several years. She didn't know how to break the news to him that she wanted out and that she didn't want to go through with the wedding. Sitting across from her, I let her tell me the details of why she wanted to end the engagement and helped her come up with a plan she felt comfortable with.
The first thing I suggested is that she see a therapist, so she can further dissect these feelings with a professional. I also recommended she end the engagement in person. They had been dating for seven years, and ending it over text or email would be much harder for the other person to handle. I advised her to have a plan of where to go after she told him the news, since they lived together and both of them might need some time and space to process this.
She sat there with a pen in hand and a sheet of paper beside her, writing down exactly what to do. She didn't cry like I thought maybe she would, and that's probably because here she was, opening up to a stranger, about things she couldn't tell anyone else, eager for advice, next steps, and guidance. She used our time together for actionable steps over emotional support. (The tears, most likely, came before and after our convo.)
After our two hours together, she had a game plan she was ready to do within the next week. I haven't heard from her since. I hope it all worked out.
2. Hack Their Online Dating Account
After a stranger read my first book, All of My Friends are Engaged, and heard stories of some of the crazy things I did to put myself out there and go on more dates, she reached out to me to help hack her dating profile.
She feared her profile was too boring and basic, and that's why it wasn't getting the attention it deserved. She mentioned that in 2016, she went on three dates total (that ended after date one) and only messaged with 10 guys. She wanted to take those numbers up a notch, but didn't know how.
She handed me her username, password, and a selection of photographs of herself. I re-did her profile, wrote a bio for her (based on a phone call we had), selected photos that expressed who she was, and answered incoming messages. I was able to set her up on three first dates within a two-week period.
What I did for her was simple. I changed her profile picture to one that wasn't blurry, showed her personality, and was fun over too serious. I answered incoming messages with responses that were open-ended, encouraging the guy at the other end to respond with more than a yes or no answer. I took interest in having conversations that were more than just, "Hey, how are you doing today?", and that was a green light for guys to ask her out on a IRL date.
She and I never met in person, which was OK. I understood who she was via our phone conversations and interjected some of my own personality into the bio and messages I wrote for her (hey, you gotta do what you gotta do!).  I was able to create an online persona for her that attracted the kind of guy she was looking for (someone witty, intellectual, and adventurous) and serve as her dating profile consultant and assistant, so she didn't have to sort through messages and find the right guys.
Last we spoke, she was still using the profile I made for her and going out on at least two first dates a month.
3. Write Their Vows
I've been able to put my poetry degree to use as a professional vow writer for strangers getting married.
While it might seem like an equal combination of sad and strange to write vows for strangers, where I talk about the relationship they have with their partner whom I have never met, sometimes it is hard for a person to put their feelings into words.
I've been hired to write vows for over twelve people. They spend an hour telling me about their relationship and answer important questions I have on memories and moments they have had with their partners, and I deliver them with vows to read on their wedding day.
I once helped write vows for a bride who was obsessed with the show Doctor Who. I spent a lot of time researching popular quotes.
4. Fix Their Broken Friendships
Being in the "relationship" business, I've also been hired to help people with relationships that don't involve love: I've been hired to help people fix friendships.
A stranger reached out to me through my business to see if I could help her repair a friendship with someone she hadn't spoken to in a couple of years. They had a meaningless disagreement over tension they had when they used to live together. She wanted this done before her wedding, so she could invite that individual to her wedding.
As someone who has mended many mangled friendships between bridesmaids and the bride during the wedding adventure, I was up for the challenge. I spent two one-hour phone sessions with the person, helping her find ways to reach out to the ex-friend, and even ways for her to put an end to the argument that broke apart their friendship.
My suggestions included her taking a step back and digesting what the fight was about versus how much has changed since then. I taught her how to approach the situation so that she was able to leave her ego at the door. She was receptive to what I had to say because this was a friendship she wanted to fix and not a friendship she was still angry about.
Last I heard, the two girls met for coffee to hash things out after years of not speaking.
I fell into this line of work almost accidentally. But being able to help strangers out in all aspects of their personal life is something I just love doing. It helps me take the situations I've experienced and the personal mistakes I've lived through and use them to change people's lives. Or so I hope.