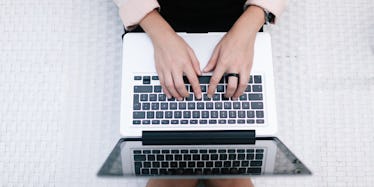 You Won't Be Surprised At What People Are Searching On Porn Sites Right Now
I'm going to be honest here, I don't really get WTF Pokemon Go is. I just downloaded it this morning and I still don't even really get the hype.
I spent about 10 minutes trying to shoot an imaginary ball at a blue thing that was supposedly sitting on top of my laptop and I lost about two percent of my phone battery in the process.
But I guess I'm missing something here because, unless you live under a rock, you know that the world has gone absolutely nuts over this thing. From Snapchat stories to news stories covering my Twitter feed, I don't think I logged onto any form of social media this weekend without being reminded that this weird, boring (yes, nerds, I think it's BORING) game is taking over the world.
So much so that it has even made its way into our sex lives. Yes, you read that correctly: sex lives. One of the world's largest adult video websites, Xhamster.com, recently reported that Pokemon Go has actually spiked to the #1 most searched term on their site.
Yep, people are jerking it to PokePorn.
Alex Hawkins, a spokesman for the website, explained that the shift has taken place within the last five days. While their top searches are usually "MILF," "Teen" and "Interracial," they have recently been replaced with "Pokemon," "Pikachu," "Hentai" and "Anime." Anime has risen to be their #1 most accessed genre over the weekend, not so coincidentally along with the mass popularity of Pokemon Go.
Hawkins explained in his statement that, "for one niche category to take over a site as large as ours is unbelievable." The site's content licensing team is currently in emergency negotiations -- yes, you guys, this is a porn EMERGENCY -- to "acquire as much anime content as possible in the next week to keep up with the increasing demand."
So, don't worry, guys. More of your Pokemon Porn is ON ITS WAY.
Citations: There's A New #1 In Porn And After Last Weekend You Might Not Be Surprised At All By This News (BroBible)