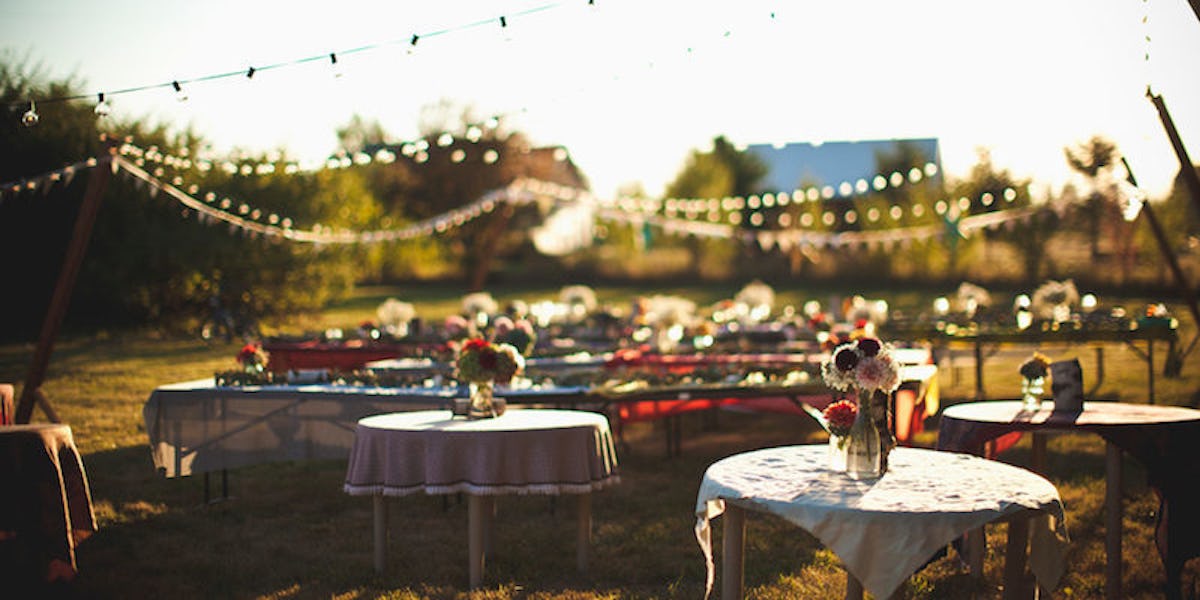 These Are The Surprising Ways Planning A Wedding Makes You A Better Person
Kevin Gilgan
Planning a wedding is like going on a stressful, tiring, overwhelming, time-consuming and extremely expensive journey.
You spend copious amounts of time researching local vendors and venues that are classy and affordable. You argue with your partner and your mother about the guest list, color schemes, seating arrangements and menu choices.
And you don't just simply pick a cake. You pick a cake flavor, a cake shape, a cake filling, a type of cake fondant, a cake stand and a cake topper... and that's just the cake.
When I first started wedding planning, I wondered who thought it was a good idea to begin marriage this way. But now, as I reflect on the end of this era, I realize the process of organizing a wedding can actually change you for the better. You gain important skills you can take into other life contexts.
Here's how planning a wedding can make you a better person:
1. You learn how to be assertive.
Before I became engaged, I found speaking my mind very difficult. I struggled to make decisions, doubted my choices and tried my hardest to go unnoticed. And if I disagreed with someone, I would ask my boyfriend to talk to them instead of going to them myself. Pfft.
But I soon learnt that when it comes to planning your wedding -- the most highly-anticipated event of your life -- you've got to stand up for yourself. You have to decide what you want and what you don't want. I realized that if I were to have the wedding of my dreams, I had to make it happen.
I had to tell the assistant at the bridal store that the puffy princess dress she was forcing me to try on was not my style. I had to let my partner know that he was not changing the seating arrangements I had worked so hard to create. I had to say, "No, mum, we are not using that horrendously bright green satin as table runners." And I had to trust that I was right.
I know it doesn't sound like much, but for some people (like me), this could be a big step towards becoming a stronger person. The whole process means you can hopefully now be more assertive in your decision-making, relationships and workplace.
2. You learn how to be organized.
Event planning forces you to be organized and stay on top of things. I learnt how to prioritize the big decisions without forgetting about the small ones, how to think through every detail and decision thoroughly and how to work to a deadline. I also learnt how to deal with mental checklists and to not let stress get the better of me: Every 'tick' on the checklist was a small victory.
The organizational skills you gain here could help you function better in whatever task you find yourself doing in the future.
3. You learn how to be content.
At the start of my engagement, I was set on having an outdoor ceremony. I convinced myself there was nothing more aesthetically pleasing than saying "I do" amidst nature's beauty. But the outdoor area we hired ended up being quite boggy and cold during the time of year our wedding was on, so we had no choice but to use the site's indoor area instead.
At first, I was devastated that my dream would not become a reality. But I had to get over it and get on with it. I also learnt how to focus on the "good" in the situation -- like the fact that an indoor wedding would mean that my guests wouldn't freeze to death halfway through the vows and also that the bottom of my dress wouldn't end up decorated with mud stains.
I know that life will be full of disappointments, but I hope that I can maintain this positive attitude throughout.
4. It makes you both proud and humble.
For some aspects of my wedding, I went "DIY-style." I designed my own invitations, ceremony programs and menus. And I was pretty satisfied with the end results.
But I also knew that I lacked a whole heap of other skills. Craft my own bouquet of flowers? No, thank you. Bake my own wedding cake? No can do. Do my own hair? Only if I don't mind rocking a horrific 'do on my special day.
You can learn how to trust your own creativity, but also how to humbly ask more talented individuals for their much-needed help.
5. It makes you a more grateful person.
Don't get me wrong; I loved my partner, family and friends before I became engaged. But witnessing the roles they played in my wedding planning process has made me love them even more.
My friends made my last months of non-married life extremely fun, spoiling me with a girly bachelorette weekend and a gift-filled kitchen tea. My family displayed immense support, selflessness and generosity. And my partner stuck by my side, even when I acted ridiculous.
At times, planning a wedding is hectic. But knowing that your loved ones helped to make it happen fills your heart with eternal appreciation, thankfulness and love.