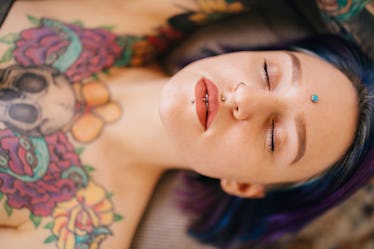 11 People Describe Their Hottest Sex Dreams In Vivid Detail
From threesomes to Bill Nye, the possibilities are endless.
There is nothing to be ashamed of when it comes to having sexy dreams. I want to put that out there right away, because now I'm going to confess one of mine, and I don't want you to judge me! My most vivid sex dream was one where I got it on with Vladimir Putin. Yes, this is a true story. But the slumbering heart wants what it wants, and apparently, that night mine wanted to get freaky with a dictator. I couldn't imagine anything weirder until I started reading people describe their most vivid sexy dreams, and then suddenly my night of passion with Putin seemed kind of tame. Maybe even boring, that is if the people sharing their stories about their most memorable sex dreams are anything to go by.
In all seriousness, sex dreams can be kind of amazing. Not just because they feel really, really good, but because they can be so unique and a really great way to learn about what you like and let off some sexual steam. And when you're dreaming, you don't even need to put in any work! The dream picks you. But just how imaginative sex dreams really get? To answer that, just read on for some steamy sex dream examples, some provided to Elite Daily, and others from Reddit. Warning: Things are about to get very hot.
Feeling hot and bothered yet? Here's to manifesting some great sex dreams of your own.
This article was originally published on