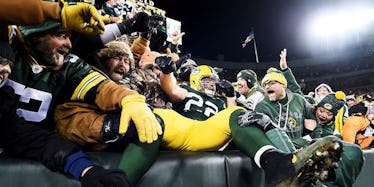 This Guy's GF Has The Same Name As His Fav Sports Team, So Of Course He Married Her
Stacy Revere/Getty Images
Ryan Holton Murphy, from Wauwatosa, Wisconsin, lived out pretty much every Green Bay Packers fan's dream when he married his wife, Marie.
What's so great about Marie, you ask?
Well, aside from being the love of his life, her last name also happens to be the same as his favorite football team's name. Yep, that's right. Marie's last name is Packer.
So that means, when they tied the knot, he obviously just had to take her last name instead of the other way around.
On the decision to break tradition by taking his bride's last name, Ryan told CBS58's Kate Chapell,
I've had some questions. I've had some people look at me. For one, I love her and number two, I love the Packers so for me it was a slam dunk. It was an easy choice. I can handle a little bit of grief.
The couple met in Madison, Wisconsin, and Ryan converted his Michigan-born wife into a diehard Packers fan.
Now, Marie's totally on board with the whole Packers-mania thing. She said, "I love the idea of us being the Packers. Packer family, signing the Christmas card the Packers, all that stuff. I'm all for it."
So that means she must have been extra excited when he surprised her with a full-on Packers suit on their wedding day.
Obviously, sports publications went crazy for this union, dubbing it every sports fan's dream come true.
And then, there were some Office fans who got a kick out of it for other reasons.
Anyone remember Michael's annoying "friend," Todd Packer? Let me refresh your memory:
The internet is going crazy making jokes about making him part of the new Packer family.
The happy couple very well might be working on making their little baby Todd Packer right now. They're enjoying a vacation in Turks and Caicos for their honeymoon.
Needless to say, they came prepared with a Packers flag.
Here's to hoping, one day, all of us love literally anything as much as Ryan Holton Murphy Packer seems to love his Packers... and his wife.
But mostly the Packers.