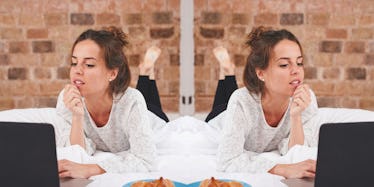 You've Got Mail: Why Online Dating Isn't A Pathetic Attempt At Love
I remember it clearly: my sophomore year in high school. Back in 2008, I was sitting in the chemistry lab with the rest of my classmates.
We were working individually on some kind of worksheet, while our teacher, a 50-year-old woman and recent divorcée, graded our tests from the previous week.
Our high school was one of few in the area that had Smart Board technology at the time. You know, those big projectors that could show the class what the teacher had pulled up on her computer? Well, while she was grading our assignments, our teacher accidentally activated the Smart Board.
She didn't realize it, but the website she was viewing on her personal computer became broadcast for the entire class to see.
It didn't take long for us to realize she was on Match.com, and was creating a profile. The entire class (myself included) started to chuckle and whisper jokes to each other.
Our teacher was decidedly pathetic.
Resorting to the Internet just to find a date?
Eventually, our teacher recognized what was going on, quickly exited the site and shut off the Smart Board. Her face turned scarlet, and she was embarrassed from the humiliation.
After class, my peers continued to make fun of our teacher because her mishap was both hilarious and unanticipated. However, as I look back on that day, I can't help but wonder what had us so repulsed by her decision to try online dating.
Yes, we were immature high-schoolers, but I somehow imagine a high school class in today's era wouldn't react so negatively.
Slowly, online dating sites are losing their stigma. Nearly one-fourth of Americans are meeting their eventual partners online. So what's the big deal?
Back when I was a sophomore in high school, it had only been two years since Facebook had gone public. I didn't have any social media profiles, and networking definitely wasn't a part of our daily lives like it is today.
Honestly, I was just lucky to have a phone that took pictures.
But in 2015, everything is turning digital. We share pictures, connect with old friends and even discuss our most central political beliefs online.
So, why should dating be the only part of our lives reserved exclusively for face-to-face interactions?
Yes, online dating can result in dishonesty, and it is undoubtedly less candid than meeting someone in-person. But traditional dating is not without its flaws, either.
By only dating people who end up in the same place at the same time as you, you're limiting your choices. Is the guy who hit on you at the bar on Friday night really your soulmate? Or what about that dude your friend tried to set you up with? Are you really a good match, or are you and him just the only two single people your BFF knows?
Online dating is a good way to take these rhetorical questions out of the equation.
A lot of the more recent sites and apps cut out the small talk you honestly don't have time for. They get right to the point, and match you with people who share your same values, not just the people who enjoy the same nightlife spots as you.
Online dating is not the obvious solution for everyone, but can we at least accept it works for some people? After all, any given romantic relationship is about what's best for the individuals in question.
Let's stop allowing out-of-date assumptions about the pathetic nature of online dating to control us. Don't be the only immature high schooler left in your group of friends.