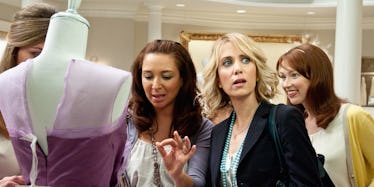 Does Not Being Able To Afford Being A Bridesmaid Make You A Bad Friend?
Universal Pictures
Your best friend is engaged.
You anxiously await for her to ask you to be your bridesmaid because you've been there for her through all the bad, and now it's time for the good. At least that's how I felt when I found out one of my best friends from college was to be married.
Don't get me wrong; I love weddings and I'm thrilled to stand up there for my girl, but no one told me that you need to take out a loan to afford the extravaganza that comes along with it.
Thanks to shows like "My Super Sweet Sixteen" and "Keeping Up with the Kardashians" every wedding has to be bigger and better than the next. If you're not doing a destination bachelorette party, amazing bridal party gifts, paying for bridal party dresses or delivering pizzas at midnight during the reception, your wedding is a failure.
From the start of your engagement, the dough needs to be rolling out.
You can't just have a typical proposal anymore. In today's Gen-Y society, professional photographers have to capture the moment and extravagant parties need to be thrown immediately afterward, in order to celebrate your intimate, private moment with all your family and friends.
It's not enough to just call your family and friends anymore. Not to mention, if there's no picture of the rock on Instagram with a hashtag, it didn't happen. Am I right?!
In your blissful time of engaged happiness, brides ask their best friends and family members to join in their bridal party. You can't just ask on a card anymore or write a sweet letter to your loved ones; you better have a beautiful box with a fancy bottle of champagne and a gift, just to ask someone to stand by your side on the biggest (and most expensive) day of your life.
The unexpected cost of weddings apparently shows who your true friends are.
I won't sugar coat it; I don't make a lot of money, I'm a 25-year-old in a mid-entry level position. If I meet someone my age who brags about making six-figures, I can assume there's a good chance they are lying.
I didn't realize that saying yes to being a bridesmaid meant that almost 10 percent of my annual paycheck would go to being in the wedding. In movies, it's so simple. However, in real life, there are so many hidden costs that someone like me simply can't afford. It almost makes me feel guilty for saying yes in the first place.
The cost to be a bridesmaid has skyrocketed. The laundry list of purchases is more than my grocery list on a given week: the dress, the shoes, the mani/pedi for the big day, the hair stylist, the makeup artist, travel to the wedding, hotel for the wedding weekend, gift for the wedding -- that's just for one day.
Before the wedding, you need to have money for the bachelorette trip (in my case almost $600-$700 because it's a destination party), gift for the bachelorette party, gift for bridal shower, travel and a hotel for the bridal shower.
At this point, certain things may have to be declined. I already feel bad because I couldn't afford to fly out and help pick out the bridal party dresses. There's a good chance I won't be able to afford my best friend's bachelorette party. The question is, does that make me a bad bridesmaid because I can't afford to go?
Does it make me a bad friend? Can I afford to miss it?
When the business of weddings becomes more important than the wedding itself.
No wonder romance has died in our generation. Weddings are no longer small, intimate celebrations of two people's love for one another. Is it wrong to want a small wedding now? Does it make you a bad friend because you don't have all of your besties in your wedding party? Am I going to lose friends when I want just my sister and one or two friends up there with me?
How do you choose?
When you get married in today's world, you need to be a people pleaser. You can't just say I only want a couple bridesmaids. You need to have your fiancé's family members in the bridal party, your best friends from elementary school through college, and maybe your distant relatives as well. Or worse, if you don't have six plus bridesmaids, do you look like a failure with no friends?
So, when I get the next card that says, "I can't say I do, without you," I'll really have to think about it. Is it more important for me to stand up there and be a part of her big day, or is it more important for me to tell her that just being at her wedding for her, to celebrate her, truly shows how I value our friendship?
When your best friend asks you to be in her wedding, can you say I simply can't afford to or will it cost you your friendship? One can only hope that is not the case.