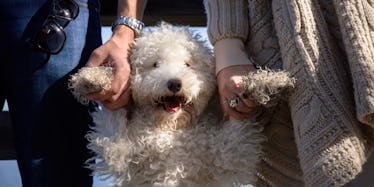 This Guy Gave His Girlfriend And Her Dog Matching Gifts Because He Knows What He's Doing
Nicholas Purvis and his girlfriend Cassandra have only been romantically together for eight months, but their relationship goes back way further than that.
Before they started dating, the two knew each other for six years. They even dated for a year and a half in high school.
After that kind of history, it's safe to say Purvis knows his girl pretty well.
And because he knows her, he's familiar with where he stands in her life. Purvis told BuzzFeed News, "She loves two things more than me: Sleeping and her dog."
Although her relationship with Purvis goes back six years, Cassandra's pup, Lucky, has been in her life for the past 15 years. Obviously, we know who's going to take the cake here.
When Christmastime rolled around, Purvis wanted to do his best to get her a present she would really love — something that combined the two things he knew she loved more than anything.
And boy, oh boy, did he pull through.
Purvis got Cassandra a customized blanket with Lucky's face on it. And he didn't just stop there! No, he also got Lucky a blanket with Cassandra's face on it, so the two lovebirds could match.
How did Cassandra respond to receiving the best gift of all time? Well, according to Purvis, she was "laughing really hard."
Don't worry, Purvis wasn't offended by his bae laughing at his Christmas gift. He told Buzzfeed News that he also thought it was "hilarious."
"I just thought it was funny honestly... like, who has that? It didn't have any profound meaning except to be extra," he explained.
Honestly, don't all the greatest things in life not really have any profound meaning, except to be extra?
As you can imagine, the internet has gone crazy over the picture of Cassandra and Lucky sitting on their matching blankets.
The photo's gotten more than 400 upvotes on Reddit and over 100,000 likes on Twitter, along with tons of replies from girls demanding their boyfriends get on Nicholas' level.
A couple of people even called Lucky out for getting a little too comfortable with his blanket.
Needless to say, Purvis' gift was a total hit.
"She didn't think I could actually get her something she would really like," Purvis explained. "A lot of people don't get her good gifts. So she was pretty surprised."
Ugh, now I just wish I owned a dog so my boyfriend could do this for me!