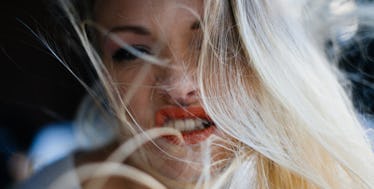 We Are Never, Ever Getting Back Together: 6 Reasons You Should Be Over Your Ex
I've said it before, and I'll say it again: Relationships aren't easy. As a very wise musician, Neil Sedaka, once sang, "Breaking up is hard to do."
The decision to end a relationship may be easy for some, but for others, it's a decision that takes a lot of time, internal mulling and external venting.
Once you make your decision, you may be immediately feeling regretful; after all, you spent a lot of time with this person.
He or she was your significant other; you were intimate and comfortable with this person. All of those things are not easily forgotten or left in the past.
In the end, however, you broke up for a reason. While you may be entertaining the idea of drunk texting this person at 2 am on a Saturday night and revealing how much you miss him or her, just don't.
Here's why:
1. It Ended For A Reason
You didn't just break up with him or her out of the blue; there had to have been reasons. Nine times out of ten, the underlying problem didn't disappear overnight.
Unless your ex has completely done a 360, don't step backwards. Your relationship failed; don't forget that reason when you've had a little too much to drink and you're feeling lonely.
2. After The Honeymoon Phase Wears Off…
While you may have remembered all the good times you shared, replaying cute conversations in your head simply creates a façade that everything was perfect.
If that were the case, you would most likely still be together. If you did get back together, it would be great during that "honeymoon phase," but after that, the original issues will resurface, leaving you confused and heartbroken… for a second time.
3. You Don't Think You Can Do Better
You can and you will; it's as simple as that. There are so many fish in the sea -- it's the oldest cliché in the book -- and, yes, I'm throwing it at you because it's true!
Once you've had enough time to get over your ex, explore your options. Let a friend set you up on a blind date, start swiping right on Tinder or just get someone's phone number at the bar.
There isn't just one person out there for all of us. There is the right person, at the right place and at the right time. Love is a tricky little thing.
4. If It Were Meant To Be, It Wouldn't Be So Hard
One of my friends said this to me during one of many venting sessions, and it stuck with me. You shouldn't have to work as hard in your relationship as you do at your full-time job.
I'm not telling you there won't be bumps in the road, but overall, you should be happier more times than sad in your relationship. If you were feeling the latter, especially towards the end of your relationship, it won't be better the second time around.
5. You Were Comfortable
Your significant other knew everything about you: your most ticklish spot, your favorite meal and exactly what you needed when you were hungover on a Sunday morning.
You may think you'll never feel that comfortable with another person, but I promise you, it will happen. Most of us take time to open up to others, especially in our generation, where everyone is so quick to move on to the next best thing.
When the right person comes along, you'll want him or her to know all of those things and more. In the beginning of a new relationship, you probably won't be sharing your deepest secrets, be able to finish each other's sentences or know exactly what your partner is thinking by just looking at his or her facial expression.
Eventually, you will get there with someone new.
6. The "L" Word
You loved your significant other. I get it; I've been there, too. However, if you've learned anything from reading articles like these, you know with each new relationship, you learn more about yourself and how you love in particular.
Falling in love isn't just about the person; it's about the timing. Timing is everything, just ask Ted Mosby. When you fall into that forever kind of love, you'll know it.
I am a firm believer in the mantra, "Everything happens for a reason." You learned from the pain, so don't subject yourself to it a second time around. Leave the past in the past, and move forward. There are far better things ahead than anything we leave behind.
Photo Courtesy: The Every Girl