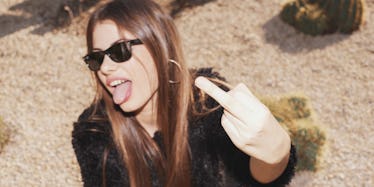 5 Reasons I'll Never Be A Booty Call, Even At The Height Of Hook-Up Culture
Whether I'm looking for a committed relationship or not, I am not the girl to use for strictly promiscuous entertainment. I am not the girl you call around 2 am, stating your urges and expecting me to just drop everything and come over.
No, I don't have a stick up my ass for expecting to be treated this way. I also don't care about the other girls who can handle the strictly sexual relationship. I'm a girl who's tired of having guys only want me for my body. I'm not a huge fan of my generation's hook-up culture, and if you have a desire to get involved with me, then there are a few things you need to know about me.
1. Monogamy is my kind of thing.
If you're already getting busy or trying to get busy with another girl, please don't talk to me. Sharing bodies isn't "goals" at all. It's disrespectful and causes drama.
2. It's not just about sex.
Sex is great. Who doesn't like sex? However, my want for sex doesn't mean that's all I care about.
While it can be argued that sex is an important part of the relationship, it shouldn't determine how everything else goes when you're with someone. It's important to explore and get to know your partner's body, but it's even more important to explore his or her heart and mind.
3. I'm not coming over at irregular times.
Anything after 11 pm is considered booty-call time. If you make plans and we can go out or do something, then sure, I'll come over. However, if you only want a quickie, then no thanks.
4. I spend the night.
If I decide to come over when you ask me to, I'm not leaving afterward. I don't want to hear your excuses as to why I can't stay until the next morning. If you have work or you're busy in the morning, I won't keep you up.
You're willing to pay for my Uber? That's great, except I'm not going home alone in the dark.
5. Let me be a part of your life.
It isn't a lot to ask for you to take me out on a date here or there or introduce me to your friends. Tell me about your dreams, goals, fears and what makes you motivated.
Let's understand each other and figure out what works and what doesn't. Let's party together, stay in and watch Netflix and smoke each other out. I want to go out somewhere other than just your bedroom.
As a girl who can get emotionally attached, this list isn't long or complicated to me. I know there are plenty of people out there who have similar beliefs to mine.
However, there are too many people who are stuck with someone who doesn't appreciate them. A majority of our generation doesn't understand the value of being with someone. They think that "talking" and sex is acceptable, and when they're bored with the person, they can just freely move on without any problems.
However, it's up to both partners to decide how they want to make this work. If you're someone who wants more than sex, then make your voice heard. Don't let your partner control everything, and stay true to yourself.
If your partner doesn't want any attachments, learn to leave when you can. If you can't make it clear to him or her that you want more, then your partner won't give you exactly what you deserve.