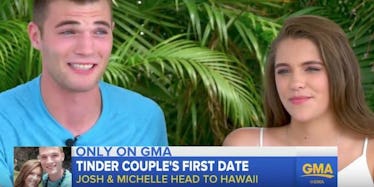 That Tinder Couple Is Not Here For Internet Trolls Making Assumptions About Them
ABC
If there's anything we've learned about the internet, it's that no matter what, trolls will always find you and either ask you for money or make you solve dumb riddles before you cross a bridge. Wait... just kidding. Wrong trolls. Rather, the internet trolls will always find you and bully you for no reason until you just want to quit social media forever and ever.
As a result of that popular Tinder couple's (you know, the ones who Tinder sent to HAWAII for a first date) newfound fame, Michelle Arendas responded to people trolling her and Josh Avsec.
Before the two went on their way to Maui, some Twitter users seemed to be throwing around some assumptions about Michelle's feelings toward Josh. Though the tweet Michelle was initially responding to has since been deleted, Michelle shot those claims down with the best clap back.
The tweet read, "Oops I totally forgot I told you my opinion on Josh!!! Great gif though."
And AGAIN, on Twitter, Michelle rebutted against some annoying users referring to her as Josh's "lovely lady." You know, because women totally can't have an identity of their own that isn't related at all to a man????
THAT'S RIGHT, MICHELLE. KILL THE HATERS WITH KINDNESS AND SARCASM. They don't know you. They don't know your life.
Michelle also hinted to the fact that internet trolls have been out in full force in an Instagram post on Aug. 4. She captioned the post, "Take a drink for every time someone on the Internet bullied you this week !!!!!!!"
Honestly, all of these haters can take a goddamn seat. Clearly, Josh and Michelle DGAF because they just spent the past week living it UP in Maui. If you're curious as to how the trip went, don't worry. The Good Morning America team third-wheeled with Josh and Michelle (so much for a nice, private "date," right?) to see how this love story played out.
Let me tell you, Josh and Michelle LIVED IT UPPPP on this trip, you guys. (I mean, duh, why wouldn't you? If Tinder's buying, I'm flying.) They wore leis, they took an endless amount of selfies that they better post on social media so I can live vicariously through them, they rode bikes, and they drank drinks. Meanwhile, I rolled around in my bed for, like, 72 hours and got pizza crumbs in my sheets.
When talking about Josh, Michelle said she "[has] learned just about Josh's incredible energy." As for Josh, he said, "You should hear [Michelle] talk about her dreams and her passions and her career path. Determination and perseverance — it's really rare and awesome to be a part of."
While Michelle said the two "haven't made any concrete plans yet" for a second date when they get back to school at Kent State University, both are confident their "paths will cross."
Will there even be a second date? I DON'T KNOW. I DON'T KNOW MICHELLE'S AND JOSH'S LIVES. What I do know is, all the internet trolls out there hating on Michelle and Josh can kindly take a seat.
Check out the "Best of Elite Daily" stream in the Bustle App for more stories just like this!