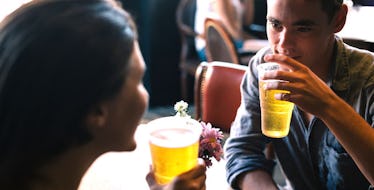 No Tinder Needed: I Met My Last Two Long-Term Boyfriends In Actual Bars
A few years ago, I stumbled into a bar in downtown Manhattan. It was a poorly lit hole in the wall with a sad excuse for a drink special. It didn't look very promising on first glance (or even second). I just wish I'd known what was waiting for me inside.
I ordered a gin and tonic; the man next to me was drinking a vodka and coke. We made subtle eye contact, and I noticed how big and blue his eyes were.
"Are you checking me out?" he said.
I protested nervously, and he burst out in laughter. I realized he was joking.
I sighed in relief. One joke, two drinks and 20 minutes later, he asked for my number. Now, I'm not the type to give out my number like it's free candy, but there was something about him. He was special.
My instincts were right on the money. He was my boyfriend for a year before we went our separate ways.
Three years later, I went to another bar in a different neighborhood.
A guy was sitting alone at the oblong bar, cradling a whiskey neat. His mystery intrigued me. With the help of a little liquid courage, I encouraged my curiosity.
"Where are your friends?" I said.
He smiled coyly and shooed wisps of hair away from his face. "Who says I have friends?"
The charm! The brown hair! I couldn't say no. I found out he was a political editor for a newspaper, and we ended up with a lot to talk about -- and not just for the night. The relationship lasted for eight months.
The story is this: I've met the only two boyfriends I've ever had at bars.
When I told this tale to my coworkers, they didn't believe me. The idea of propositioning potential love interests in dark, puke-and-alcohol-ridden caves didn't seem credible.
Granted, the relationships were not, in the end, very durable. But that's the principle of the thing; I met them on my own and in the flesh, sans dating app or mutual friend or what have you.
It wasn't just spontaneous; it happened when I least expected it to. I didn't look for love -- love found me.
We're told that this kind of thing happens only in the movies -- a romantic comedy starring Rachel McAdams and Matthew McConaughey, perhaps.
Rachel's character would drop her wallet on the floor of a club, bend to get it and bump heads with Matthew's character on her way up. They'd make babies and live happily ever after. Audience members would throw popcorn at the screen, sip beers, embrace their inner cynics and say, "Yeah, right. F*ck this. Who wants to have a beer-chugging contest?"
News flash, people: Picking someone up in a bar shouldn't be a rarity in this day and age.
As bar-goers, we do our best to make it seem like we're unlikely to pick someone up when at a bar.
We're immersed in deep conversation with our friends. Our backs are turned to the strangers behind us. Our pocketbooks -- and fear -- keep us protected from the unknown. We have a fear of approaching someone. We're apprehensive about revealing how vulnerable we are.
We act like VIPs. We stick to conversations within our groups. But bars aren't meant to be exclusive. They're inclusive in every way. They're actually designed to fuel meaningful connections between us and people we perceive as different.
Believe it or not, there was a period in time in which we didn't hide behind robots and humans. We didn't have to swipe right to signify interest. Raw, real communication became a lost art, and somewhere along the way, we forgot how to be authentic.
But we've done it before, so why can't we do it again?
Come to think of it, I can't remember when we stopped actually talking -- when the fear of it began. When did hitting on someone become futile? When did turning strangers into lovers become a crazy notion that occurs in far-off, centuries-away lands?
Dating has become a sort of sport. It's a competition, and the person with the most matches wins. You're a loser if you've matched with no one.
We always hear about people who meet their soulmates in person, but they're never people we know. If it hasn't happened to anyone we closely associate with, it's almost as if it didn't happen at all.
I'm here to tell you that you can still meet someone at a bar. My story matters, because I'm living proof that finding love in a bar doesn't mean finding love "in a hopeless place." I found love in a hopeful place.
The uncommon isn't unimaginable, and organic encounters aren't impossible.
Be bold. And if you can't be bold, be receptive. Let people see what you can offer, and eavesdrop till you drop. Grow a pair, throw on your sassiest dress, and talk to that cutie you've been eyeing all night.
None of my exes were "The One," but I don't regret one thing about saying "hello." What have you got to lose?