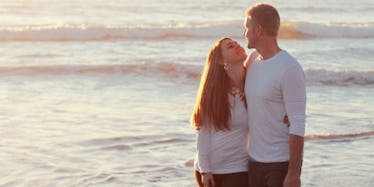 9 Matchmakers Reveal The Top Traits You Should Look For In Your Next SO
Stocksy
When you're single, everyone tries to tell you which qualities to look for in the person you'll want to spend the rest of your life with.
Your parents may tell you to look for someone with strong career goals and healthy finances (#yawn). Your best friend may say you need to seek out committed types who choose you over Sunday night football (because she KNOWS, girl).
While it's helpful to hear others' input, it's always a good idea to have your own list of must-haves for your next relationship. After all, this is your ideal life-long partner we're talking about.
So, if you're looking to see what you should add to your SO wish list, peep what these nine matchmakers admit are the most important things you should look for in your next lover.
1. Find someone who shares the same values as you.
I always tell my clients that the number one thing to look for in a partner is someone who shares the same values you do: family, time and money. Family values influence decisions, and this provides a system in which we learn to guide our behavior toward others. Sharing the same views in how you value time and money signifies that a couple is a lifestyle match. All of these three things are measures of compatibility that can help build a platform to relationship success, especially when paired with strong communication skills.
– Maria Avgitidis, founder and head matchmaker at AgapeMatch.com
2. And is emotionally compatible with you.
The number one thing you should look for in your lover is emotional connection and compatibility. This is what keeps couples together in the long run. Being able to be yourself and having the connection to be playful together is also very important. Does this person keep your kid-at-heart attitude alive? Does this person make you laugh every day, even in tense times? Does the person really "get" you? These are things that can often go overlooked in the beginning of the relationship due to lust. However, great chemistry happens when you have an emotional and physical connection.
–  Sameera Sullivan, relationship expert, psychologist and founder and CEO of the elite luxury matchmaking service, Lasting Connections
3. Look for a considerate person.
If your potential mate is a considerate person, your emotional and physical needs will be a priority to them. They will make sure that your needs are met — and if they're unable to meet those needs, they'll be considerate enough to let you know so that you can make an informed decision regarding the future of your relationship. Honesty, integrity and kindness are all essential elements in a good mate, but consideration should be at the top of the list. There's something irresistible in a partner who anticipates your heart's desires and makes the effort to make them a reality.
– Angela Kelley, professional matchmaker at A+ Introductions, LLC
4. Who's also emotionally available.
These people are ready to give and receive love and affection.  They are satisfied and confident with themselves, and understand that this is a must in order to be happy with a partner. Tending to other people's feelings, needs and wants is a top priority. The best partners make the time and put in the necessary effort in order to progress in the relationship.
– Marissa Ventura, matchmaker
5. Find the person that you don't want to change.
When a woman is ready for a lasting and sustainable relationship, she should seek to be with the 'nice' guy. I think many women like to change the 'bad' guy. They think, 'Once this person meets me, he'll become the nice guy and we'll live happily ever after.' Well, love isn't a fairytale, and Prince Charming isn't coming your way. Love has an ebb and flow, and the perfect person doesn't exist. If you're seeking a true and healthy partnership, you should be seeking someone who knows who they are. Find people who are confident in what they have to offer someone. They should love themselves and be capable of loving another person. They shouldn't try to change you, and women should also never try to change a man. If you can't accept the man for who he is at the current moment, don't try to establish a relationship with him.
– Dallisa Hocking, founder of Love FrogKisser
6. And someone who knows how to commit to something.
Look for someone who has a proven track record of commitment. There are many ways to evaluate this: They may have a history of long-term relationships, own an apartment or dog, or have a strong dedication to their career. Or, they may simply be great at keeping scheduled dates.
– Gina Cerniglia and Alexandra Joslin, matchmakers at Friend Of A Friend
7. Seek out a partner who shows you R-E-S-P-E-C-T.
Respect is multi-faceted: respect for the your intellect, values, education, career, decision-making, judgment, family, and sense of humor... Not to mention, an appreciation for all of these things, too.
– Brooke Wise, Wise Matchmaking
8. And clearly cares about you.
Perhaps they use physical touch to give you a massage, or they seem generally concerned about your day. Someone who seems to listen to and understand you can show you that they will listen to what you need for physical intimacy.
– Stef Safran, matchmaking expert who founded Stef And The City
9. Finally, look for someone who will make you a better person.
Don't necessarily look for someone who has all the same traits as you; look for someone who compliments you. If you have nothing to learn from your partner, you have a stale relationship — it's not one in which you can both grow. We try to introduce couples who work in different industries, have different hobbies or come from different backgrounds. As long as similar fundamental ideals are there, you're golden. And, in the correct place for a successful relationship.
– Nikki Kewis and Greta Tufvesson, co-founders of The Bevy