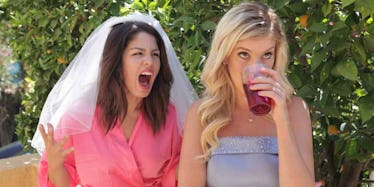 7 Maids-Of-Honor Reveal The Craziest Requests They've Gotten From Brides
Elite Daily
Being the bride's number one go-to gal pal, leader of her wedding day squad, her loyal and trusty maid of honor is a job that can sometimes feel like way more work than it's worth.
Sure, you're there for a handful of fun moments, like planning a bachelorette party that'll make people jealous on Snapchat and playing bridal shower games that'll have all the guests revealing their competitive spirits in hopes of winning a grand prize (which is usually a candle or a Starbucks gift card).
But the job comes with some hassle. And depending on who the bride is, it may even come with some ground rules and crazy requests.
Take a look at what these seven maids-of-honor say are the craziest requests they've gotten from friends-turned-bridezillas:
1. I had to grow out my hair.
The bride asked us all to grow out our hair. Some girls had super short hair and she said we had to grow it out 5 inches or get hair extensions. I had hair down to my shoulders, and it doesn't grow so fast. I had to buy vitamins for my hair and ultimately, I just spent $200 on clip-in extensions. I was the maid of honor, so I had to listen. Some bridesmaids didn't, and the bride was pissed at them.
— Rachel W., 27
2. I was told to lose five pounds.
My best friend got married last year, and it was like she flipped a light switch and changed her personality overnight. She was a bridezilla by week three of being engaged. She literally told all of the bridesmaids how much weight they needed to lose. This was not like her at all. I ended up having to lose 5 pounds, and I didn't. I lied to her and told her I did, and instead put on a pair of Spanx.
— Maggie B., 24
3. The bride made me flirt with the groomsmen.
One of the deals the bride made with me was that if I flirted with the groomsmen and made sure they had fun, I could pick out any bridesmaid dress I wanted. So I did. I had to flirt with them before the wedding and hooked them up with my single friends. I felt like a bridesmaid pimp.
— Cristy P., 27
4. I had to buy two bridesmaid dresses.
The bride bought three dresses to wear for the wedding. She also wanted me to wear a second dress. I thought the idea was cool, and I thought she'd pay for my second dress. She laughed when I told her that and she laughed when I asked if she would buy my second dress. She told me that as her maid of honor, I had to do what she wanted and that meant buying two dresses. I spent $500 on two dresses I'll never wear again. It was ridiculous, and I wish I just said no to her to begin with.
— Shelly B., 34
5. My job was to keep the groom sober.
On the day of the wedding, the bride and I were downstairs at the hotel getting coffee and we saw the groom and his friends starting to take shots. The bride flipped out because it was only 9 am and the ceremony didn't start until 6 pm. She tossed me in front of him and said I had to keep him from taking shots, even if that meant taking them myself before he had the chance. I spent the whole day babysitting him. He drank a lot, but less than usual because I was annoying him and the guys to stop. I got drunk too because I had to take shots all day. It was ugly and just annoying to me that I had to do this for the bride.
— Wendy W., 29
6. I had to convince the bride to walk down the aisle.
My cousin got married to a guy she wasn't really sure about. About 20 minutes before the ceremony, she pulled me into the bathroom and told me she didn't want to do this. Her mom came into the bathroom and said if she didn't go through with it, she'd have to pay her back for the whole wedding, which must have cost like $70,000. The mom and the bride made me in charge of pep talking the bride down the aisle. I had to practically drag her to the ceremony and down the aisle.
— Jen L., 28
7. I had to lie about the bride cheating on the groom.
When I was a maid of honor, I was tasked with lying to the groom. The bride was cheating on him, and he had a feeling. The bride made me swear not to tell him, and when the groom asked me on the wedding day, I had to look him in the eyes and tell him he was crazy. Their marriage lasted less than a year.
— Brooke N., 32