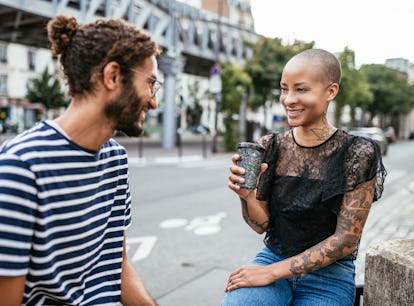 15 Love Tattoo Ideas For Couples Who Want To Get Inked Together
Because your love will live forever.
Drazen_/E+/Getty Images
Ready to celebrate your love in a way that is a little more permanent? No, not a wedding! A couples tattoo, of course. Nothing says "I love you" forever than an everlasting mark on your body that will only come off with a painful lasering process. You could go the old-school way and tattoo your lover's name on you, and though it worked out for Stephen and Ayesha Curry, we all saw how that ended for Pete Davidson and Ariana Grande.
Or you could get matching tats that merely suggest the idea of a captured heart while still leaving much to the imagination. Think of it as your own little secret sign. Could anything be more romantic? Sure, maybe a surprise birthday trip to Paris, but coordinating tattoos comes pretty close.
I reached out to tattoo expert Beau Lawson of Freehand Ink and sorted through the cutest, least cringey love tattoo ideas for couples so you don't have to do any work. Scroll on and see which one tickles your fancy.
Ready to show off your love?
Expert:
Beau Lawson, tattoo expert at Freehand Ink