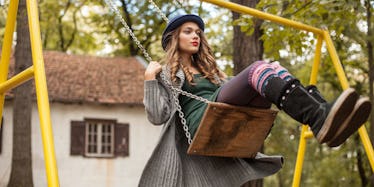 Love Him Or Leave Him? 11 Honest Questions To Ask Yourself About Your Relationship
If you're like me, your girls are your go-to. They offer fashion advice: "Seriously? That top with that skirt? No." They offer workout advice: "I think if we start doing two-a-days until the weekend, we'll look like Victoria's Secret models by Saturday." Most importantly, they offer life advice: "Quit your job. Let's be gypsies."
Your girls are more than just friends; they are your soul sisters. Unfortunately, they are often hopeless romantics and "Sex and the City"-addicted love zombies, so it can be hard for them to help you really assess your current relationships without giving you the black and white option to "love him or leave him."
Luckily for you, I am willing to be the friend you need for when you've reached a relationship fork in the road, or perhaps, just want a reality check before making the best (or possibly, worst) decision of your life.
I believe in love more than I believe in anything else in the world. I also believe too many people settle because they don't ask themselves the tough questions they should before they make the "love him or leave him" decision.
Here are those 11 questions:
1. Does he bring out the best in you?
We all possess beauty and believe it or not, we all also possess ugly. The person with whom you choose to spend the rest of your life should magnify your strengths and balance out your weaknesses. He should make you feel like not only the best version of yourself, but the truest version, as well.
If you had to summarize yourself in just five qualities, what would you like them to be? Now, think about the qualities that your significant other brings out in you. Do they align? How would he describe you? When the qualities you strive to have become the qualities you possess, true harmony becomes possible.
2. Does he make you want to be a better person/friend/sister/employee?
I've learned that when we feel fulfilled and accepted exactly as we are, we tend to become better versions of ourselves. When we feel unappreciated and misunderstood, we struggle to exist as we are. True happiness fills hearts with so much joy that it overflows into the relationships that surround us.
Have your relationships outside of the one with your current partner flourished or suffered since you've been together? The love of your life will want you to nurture relationships that are important to you rather than require your full and undivided attention.
If you find yourself skipping out on girls' nights, missing your nephew's t-ball games and making excuses for leaving family dinners early because you've been made to feel guilty for not spending all of your time with your significant other, it might be time to reassess.
3. Does he make the ordinary seem extraordinary?
Every person has a different opinion of the ideal date, the perfect way to spend a weekend and a fantasy vacation destination, but when it comes to day-to-day activities, how do you spend your time?
Do you explore together, go on adventures together and, most importantly, enjoy performing everyday tasks together, such as going to the grocery store or folding your laundry?
Some might laugh at this question, but the rest of your life is a long time to spend with someone you don't enjoy doing the mundane with. It's amazing how much more fun "chores" can be when you are performing them with someone you love.
4. Does he make you feel safe?
While it's nice to feel protected with the comfort of beefy arms, the safety to which I am referring involves your feelings and emotions.
Does he make you feel safe when you need to share something that's been on your mind, reassess a situation that happened at work or when you just need someone to listen? Does he make you feel safe to chase your dreams and discover your passions?
Men and women are very different and tend to deal with emotions very differently; however, there is something to be said about a man who chooses to listen, tries to understand and protect your feelings.
5. Does he make you laugh?
This may be one of the most important questions. Life is way too short to spend it being serious and there is nothing better than laughing until your stomach cramps with someone who demonstrates a weirdness similar to your own.
We are all weird and goofy and we all have the capability to be completely hilarious in the eyes of someone who appreciates our specific style of humor.
The bottom line is that life is better when you're laughing. What better way to determine if you're with the right person than to ask yourself, "Does he make me laugh?"
6. Do you enjoy talking to him?
We focus so much on the destination that we often fail to notice all of the steps it took to arrive. The top of the mountain may be beautiful, but the conversation on the hike up makes the journey worthwhile.
Choose to spend your days with someone you can talk to about anything and still feel as though there's more left to say.
I always feel sad when I see a couple at a restaurant staring blankly at each other in silence, swirling their straws in their glasses, as though there's truly nothing left to discuss. Life is way too long to fill it with small talk.
7. Does he calm your storms or create your storms?
The love of your life should be your heart's resting place. The safety in the chaos, rainbow after the rain and the person you know you will leave feeling better than when you started.
All too often, people get stuck in relationships that create more storms in their lives and spend the whole relationship trying to calm them.
Life is hard enough as it is. We shouldn't have to spend our days in relationships that only make it harder. When you've had a bad day, to whom do you turn? When you cry, who wipes away the tears? The love of your life should spend more time bringing sunshine rather than rain to your life.
8. Do you respect one another?
Respect is one of the most important qualities to have in a relationship. If you respect someone, you will likely not embarrass him in front of others.
If you respect someone, you will choose to come directly to him when you have a problem, rather than talking about it to everyone else first.
Arguments follow a much more constructive highway when respect is present.
9. Do you fight the same way?
Everyone has a preferred method for fighting and it's imperative that you and your significant other are compatible in conflict resolution. It will not always be rainbows and butterflies and problems will arise.
If two people prefer to "fight" in completely opposite ways, it may not work in the long run. Some people need to get heated, scream it out and say things they'll regret later on in order to feel understood.
Some people shut down completely and need time to cool off and think about things, while others need to discuss the situation immediately and feel hurt when their partner says he needs some time or space.
Some people need to sit down and have lengthy discussions about every tiny detail of a situation before they feel better, while other people would rather just forgive and forget and move forward. It's important to ask yourself how you handle conflicts with the people you love.
10. Does he challenge you?
All too often, people become complacent in relationships. Does your relationship challenge you mentally, physically and intellectually? Do you feel as though you learn from each other, grow with one another and have progressed both individually and together since you have been together?
The love of your life will fuel your passions so that you can pursue the things you find meaningful and will challenge you to learn new skills that the two of you can pursue together.
11. Is he good on paper or is he good in person?
Do you love HIM or the IDEA of him? It's so easy to create an image of the perfect man, only to realize that the person in our minds doesn't exist. Be patient with your heart and be aware of your feelings.
If you are forcing it, justifying it or constantly seeking approval for it, it might not be the right relationship for you. Don't waste time trying to make sense of your love, but rather, wait for the love that simply makes sense.