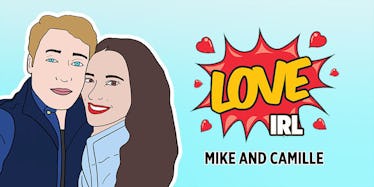 How This Couple Who Met On Hinge Made It Official In 4 Months
Kylah Benes-Trapp
Camille and Mike are both New Yorkers who met on Hinge (look at those cuties above).
Mike, 25, was one of those guys who downloaded and deleted the dating app a million times. Camille, 24, was just getting back in the game after a breakup.
Neither of them were looking for anything serious.
Mike swiped right on Camille because he recognized their mutual Facebook friend. He thought her picture was a little too "artsy" (it was black-and-white), but he swiped anyway. Camille swiped right because she thought Mike's pictures were cute.
Their conversation started flowing, and Mike — for the first time on a dating app — asked her out.
I sat down with the two lovebirds at a taco shop/margarita bar (very classy, I KNOW) to talk about how they went from Hinge matches to an almost year-long relationship.
This is their story…
The First Date
Mike: It was around the holiday season, like late November/early December.
One of my favorite places to go in the city during that time of the year is Rolf's — it's a German bar in Gramercy, and it's really cool.
Camille: And I couldn't go until, like, 7, right?
M: At first, she was like, "Oh, how about 6?" Then, in the middle of the day she was like, "Oh, I can't do 6. How about 7?"
As I'm walking there from work, I get another text: "Alright, well, I can do 7:30."
At this point, I'm thinking, "Oh my God!" [laughs]. I texted my buddy, "This girl has pushed it back three times already, fuck this."
C: Oh, COME ON. Not all of us get out of work at 4 pm.
Anyway, I was really nervous and excited to meet him. I remember walking down to Rolf's and seeing him across the street...
M: I was panicking because there was a line down the block — it was packed.
C: But he had a backup plan right away. He is such a planner.
He said, "Oh, this place is actually really crowded, but I thought we could go to the bar at the Madison Square Hotel." Right? Or Gramercy Park Hotel? I always confuse them.
M: Gramercy Park Hotel. It was right around the corner.
It's a really nice, warm, cozy New York hotel bar with chandeliers, a fireplace and pool table.
C: It was the perfect, most cozy Christmas setting. They had a jazz band in the corner. It was this beautiful oak bar with rose gold-colored velvet everywhere.
M: But there was nowhere to sit. All the couches were taken, so I suggested we just grab a drink by the bar.
Then these two British dudes got up and offered us their seats right by the band. We sat there talking for, like, two hours.
C: No, we didn't. We sat there talking for THREE hours.
And then, we went back to Rolf's for another hour, so we were basically talking for four hours. It was amazing.
The jazz band was playing some songs from the "Charlie Brown Christmas" video, and no one knows this, but that music, the band that plays it, is the Vince Guaraldi Trio.
And I said that. I was like, "Oh yeah, the Vince Guaraldi Trio."
He was like, "Oh my God, did you just say Vince Guaraldi Trio?! This is amazing! I cannot believe you know that!" He loves Snoopy.
M: Yeah, it's an awesome band. I only know, like, one of their songs, but they're killin' it [laughs].
C: At the end of the night, I literally had to say, "I'm really enjoying myself, but why don't we save stuff to talk about for next time?"
Then we shared a cab to Penn Station and kissed on the sidewalk [laughs]. 
But it was a really good kiss, and I'm, like, a really awkward first kiss person… I dread that moment of, "Are we gonna kiss? Are we not?" But it was just perfect.
Making It "Official"
M: I didn't want to ask her to be my girlfriend in a casual way. I kind of wanted it to be in a nice way. I didn't mind waiting until the right moment.
C: And I disagreed with that.
M: I didn't really care about the title of it.
C: [laughs] He was like, "What am I supposed to do? Ask you when we're at Taco Bell one night?" I was like, "YES! I don't care!" I was getting annoyed because we were doing all these somewhat serious things together.
We celebrated Valentine's Day together, and I spent time with his family, but I wasn't his official girlfriend yet. So I was insisting on it. 
I was like, "It's weird that you won't ask me to be your girlfriend. I feel like I'm your girlfriend..."
M: Well, we met in mid-December and I didn't ask her out until, like, March, I think.
I wanted it to be in a cool setting. I didn't want it to be some stupid sitting on the couch...
C: We were at a friend's birthday party at The Wythe Hotel in Brooklyn at this rooftop bar overlooking the Manhattan skyline and he just goes, "I have to ask you something." And I was like, "What?"
And he goes, "Will you be my girlfriend?" And I said, "Yes!" But at that point I already felt like we were pretty exclusive.
M: Yeah, in my heart I felt like I didn't even really need to. I just felt like we were already dating. I didn't think she'd mind me waiting to do it in a cooler fashion.
C: Yeah, that was pretty cool, I guess [laughs]. How long do you think you would have waited if I hadn't said anything?
M: Probably not much longer. In hindsight, I probably should have done it sooner, though. As a courtesy to you [laughs].
Their Secret To Finding Love IRL
C: Make sure your dating life is still fun. I'm still SO excited when I know he's waiting downstairs for me after work.
I think it's because we don't abuse the privilege. We know we're not seeing each other every single second of the day. I have friends who see their boyfriends every day, and to each their own, but I personally think that's so unhealthy.
M: Yeah, I agree. Like, I'm a big family person, so I'll encourage her to go home and spend time with her family instead of hanging out with me...
C: [laughs] OK, you don't need to encourage me to do that. I do that anyway.
M: I know, but even in the beginning, I didn't mind at all if you wanted to go home for a weekend to hang out with your parents.
Because then you end up appreciating it more when you do get to spend time with each other.
THE END. Thanks for sharing, Camille and Mike!