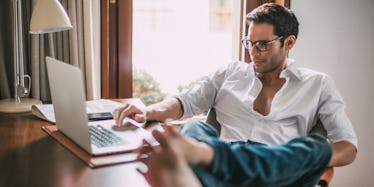 Why I'll Love My Boyfriend No Matter What Job He Has (Or Doesn't Have)
"Unfortunately, we have to move back to Pennsylvania," my fiancé confessed after a year of living in Tennessee.
For me, this was upsetting news since we'd lived on our own for over a year. But, shit happens, people.
When I met my fiancé, he was living with his folks.
Now, I know what you're thinking and you're way wrong. He had just finished his last semester of college, he was graduating in a few months and he was struggling to find a job.
I was in the same boat. I was interning in New York and got paid a mere $7.25 an hour. Talk about a dream, huh?
I know you're supposed to start from the bottom, but I was at the bottom of the barrel.
My fiancé didn't treat me differently because we were in a similar situation. And, I never treated him any differently -- even when he suggested getting a job as a janitor.
I knew he had to do what he had to do in order to earn money.
I never looked down on him and I never wanted to stop dating him because he wasn't set in life. It's not a big deal.
Do you know how many men and women are having trouble establishing careers, so they're taking in-between jobs. I got it.
Generally, women talk about having an established man, a man whom they know can take care of them. They want a man who is successful and has his shit together.
But, here's the thing: Just because a man in his 20s still lives at home does not mean he's immature and not a "real man."
There are cases – just like my fiancé's – in which a person has no choice but to live at home. You shouldn't hold that against him.
Then, when he found a job a few months after we started dating, he was looking forward to working full-time.
I was excited for him because I knew he would be making some serious dough and getting experience at the same time.
The following year, we spoke about moving into an apartment together.
So, we looked at apartments in the summer and planned to move into one by the fall. I was really happy we'd finally be able to live together and get that sense of freedom we'd both been craving.
But, then, he found out that his job was contract work, which meant it was not guaranteed, so there was always a chance he could lose it.
I was absolutely devastated by that news because we picked out an apartment and even put a deposit on it. I had been dreaming of the day when we'd move in together and finally get established.
Now, some women might have left him at that point, but I'm not that shallow and I was in love with him.
I stuck by him because I believed in him. I knew within the next few months to a year, he'd find a better opportunity -- and I was right.
Last February, he got an interview with a company in Tennessee and got a job.
I was ecstatic to move to a new state and start over again. I was looking forward to owning something and finally getting that taste of freedom. The move went smoothly, but as time went on, his job did not.
He was insulted, criticized and degraded by his co-worker and boss for his work. I had to sit there and listen to my fiancé come home and talk about it. It hurt me more than you'll ever know to hear someone say those things about the guy I loved most in this world.
"Why didn't you do a better job? You screwed up – again? You're a terrible worker..." OK — maybe I'm being a bit over the top, but it was the gist of what his boss and co-worker said.
I knew in my heart he needed to quit this job. I also knew I'd lose my freedom, apartment and job. I knew he needed me and didn't need someone complaining about leaving the state she always dreamed of living in.
He needed a cheerleader, someone he could depend on when things like this happened.
At first, I was a mess and didn't want to, but in the end, I knew I had to put on my big girl pants and be mature about this decision.
Did I ever think about leaving him because, again, he wasn't established? Nope – not for one second.
You see he's on unemployment – temporarily – and to you, he may seem like a loser, but to me, he's not at all.
Sure – I could have gone for an established man, one who had all of his shit together, but all I need is a man who's supportive, treats me well, will step up when he has to and who listens.
And, you know what? He does all of those things and more.