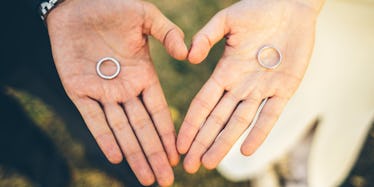 You Can Hire People To Help You Find Your Lost Wedding Ring
Stocksy/Studio Firma
I'll never forget the day my older cousin accidentally flushed her wedding ring down the toilet. It was simultaneously one of the most depressing and hilarious days of my life. And I guess hers, too, probably.
If you're a sucker for details, she didn't realize it slipped off her finger when she was wiping. She flushed without thinking, only to realize she sent her wedding ring down the toilet with whatever else she had just excreted from her body.
I watched her desperately trying to plunge the toilet as she sobbed (because she managed to lose the one material possession that's not only worth thousands of dollars, but is also symbolic of the immense love shared between her and her husband) and laughed )because, well, she was plunging a toilet for a diamond ring).
Eventually, she just had to accept the fact that it was gone for good.
Then, the worst part: She had to go downstairs and tell her husband what happened. It was heartbreaking for me, an innocent bystander, so I can only imagine how brutal it must have been for them.
This whole fiasco took place in 2005. Granted, it wasn't that long ago, but it was definitely way before people were turning to the internet to fix literally any problem they encounter.
Fast forward to today, and there's actually a website that will help you find any and all of your lost jewelry, because what isn't there a website for these days?
Through The Ring Finders, you'll find an online directory of "metal detecting specialists" from all over the world whom you can hire to go out and hunt for your missing wedding ring, or even that tennis bracelet your mom got you for your high school graduation.
A flip through the "Book of Smiles" on the site's front page shows plenty of satisfied customers visibly ecstatic about being reunited with their missing jewels.
In fact, there's even a video. I'm not going to say I shed a tear or two watching it... but I'm not going to say I didn't shed a tear or two, either.
According to The Ring Finders' site, there are 299 metal-finding pros in 440 US cities. All it takes is finding one in your area, and calling him or her up to help you.
For instance, there's one ring finder in the NYC area whose profile says he's been "hunting for over 10 years," and is "capable of searching all terrains including water."
His fee is "Reward based — pay what it's worth to you." Hmmm... now that's a loaded listing. What if its worth is priceless?! How can you do the math on that?
Overall, The Ring Finders have made almost 3,000 (2,998, to be exact) recoveries to date — a loot worth more than $5.2 million.
Watch this not-at-all-cheesy, not-at-all-staged video to see The Ring Finders' President & CEO Chris Turner work his magic.
If only my cousin had known about Chris and his guys back in 2005.
Her husband would definitely be a few thousand dollars ahead... unless he gave a hefty sum to his metal-detecting hero.
Citations: The Ring Finders Will Hunt for Your Lost Wedding Ring Quickly and Cheaply (Glamour)