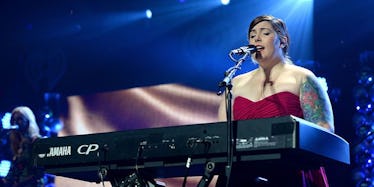 9 Love Songs That You Didn't Know Were About A Gay Couple
Larry Marano/Getty Images for iHeartMedia
Do you know the history of Pride?
It actually started in 1970 as a march, called the Christopher Street Liberation Day (CSLD) March, to commemorate the violent riots and police brutality that occurred June 28, 1969, at the popular gay club in New York, the Stonewall Inn.
Subsequently, marches in other cities began to occur, including in Los Angeles.
Eventually, the marches became celebrations of gay pride — in the form of parades — that are sponsored by the city.
In honor of June being Pride Month and in honor of all our LGBTQ+ friends, here are some love songs you probably did not know were actually about gay couples.
"Forrest Gump" by Frank Ocean
But you're so buff, and so strong I'm nervous Forrest Forrest Gump My fingertips, and my lips, they burn From the cigarettes Forrest Gump you run my mind boy Running on my mind boy Forrest Gump
In 2012, Ocean penned a letter on Tumblr entitled "My First Love was a Man," chronicling his romance with another man at age 19.
"Poker Face" by Lady Gaga
Can't read my, can't read my No, he can't read my poker face. (She's got me like nobody)
According to The Advocate, Gaga has revealed that this song is about having to hide her bisexuality behind a poker face.
"Lola" by The Kinks
Well, I'm not dumb but I can't understand Why she walk like a woman and talk like a man Oh my Lola, lo lo lo lo Lola, lo lo lo lo Lola
According to Rolling Stone, "even in 1970 listeners could figure out that the "Lola" who so transfixed singer-songwriter Ray Davies was a transvestite."
Rolling Stone also reports that Davies said, "The song is actually meant to show that things aren't always what they seem."
"Cool for the Summer" by Demi Lovato
Tell me what you want What you like It's okay I'mma little curious too Tell me if it's wrong If it's right I don't care I can keep a secret could, you?
When asked to explain this song, Lovato tweeted, "And with all the advances we've made in the LGBT community… I think more than one female artist can kiss a girl and like it….. ;)"
"Te Amo" by Rihanna
Te amo, te amo, she says to me I hear the pain in her voice Then we danced underneath the candelabra, she takes the lead That's when I saw it in her eyes, it's over
It's hard to ignore the use of the pronoun "she" in this song "Te Amo." The video also features RiRi getting pretty hot and heavy with another woman. However, Rihanna has never been on the record talking about bisexuality.
"It's Raining Men" by the Weather Girls
It's Raining Men! Hallelujah! It's Raining Men! Amen I'm gonna go out, I'm gonna let myself get, Absolutely soaking wet! It's Raining Men! Hallelujah! It's Raining Men! Every Specimen! Tall, blonde, dark and lean Rough and tough and strong and mean
The song is, of course, a popular gay anthem, and was initially offered to artists like Cher and Diana Ross to perform, but ended up with the Weather Girls. Although the song is sung by two women, it was pitched almost specifically as a single to singers with large LGBTQ fan bases.
Hallelujah!
Mary Lambert, "She Keeps Me Warm"
She says I smell like safety and home I named both of her eyes forever and please don't go I could be a morning sunrise all the time, all the time yeah This could be good, this could be good And I can't change, even if I tried Even if I wanted to And I can't change, even if I tried
Mary Lambert is a lesbian singer who often writes about her love and relationship experiences with women, with other songs such as "Secrets" and "I Know Girls."
"Diplomat's Son" by Vampire Weekend
That night I smoked a joint With my best friend We found ourselves in bed When I woke up he was gone He was the diplomat's son It was '81
Rostam Batmanglij, songwriter and instrumentalist of Vampire Weekend, described "Diplomat's Son" to Out Magazine as "a six-minute dancehall song about a gay relationship."
"I'm Coming Out" by Diana Ross
The time has come for me To break out of the shell I have to shout That I'm coming out
Although Ross herself is not coming out in this song, it is an ode to her gay fans. In an interview with Billboard, the writer of "I'm Coming Out," Nile Rodgers, explained the origins of the song:
We went to this transvestite club but everyone went there. I went to the bathroom and I happened to notice on either side there were a bunch of Diana Ross impersonators. I ran outside and called Bernard and told him about it and said, 'What if we recognize Diana Ross's really cool alignment with her fan base in the gay community?' So we sat down and wrote, 'I'm Coming Out.'
So if you're looking for the perfect Pride playlist, you might want to give some of these songs a download. And remember, not every song you hear on the radio is necessarily about what you think.
Are there other songs you'd add to this list?
Happy Pride!