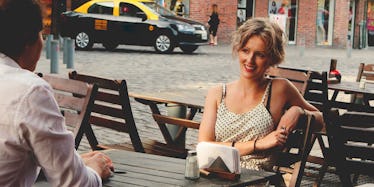 Why People Who Always Know What They Want Suck At Casual Dating
Jayme Burrows
For certain people, dating can be exciting, fun and full of adventure. Unfortunately, for others, it can be frustrating, confusing and full of anxiety. If you're like me, then you associate it with the more negative aspects.
Although I do agree dating can be fun at times, that idea really only applies if you don't have an end goal in mind, and if the person you're dating is on the same page as you. Otherwise, you're left tossing and turning at night, trying to figure out if that person is going to be around in the next few weeks.
Prior to moving to New York City several years ago, I was the stereotypical relationship person. I was an expert at being in a relationship. Then, all of a sudden, I found myself wading in the singles pool.
After being so comfortable in a long-term relationship, it takes a decent amount of time to grieve and move on. It takes time just to feel normal again. And throughout this process, you find yourself doing things that are a little unusual from your normal self. For me, casual dating was one of those things.
I absolutely cannot stand the idea of casual dating, and I'm sure there are many others who are as fed up with it as I am. That's probably because you're the kind of person who already knows exactly what you want, and you've finally reached your limit of going out with people who are not at all what you want.
It's hard to battle the sting of loneliness when you're single. As many times as I try to hold out for "the one," I always end up finding myself going out with the wrong ones. Then, like clockwork, I usually ride it out until I can't stand the inconsistency any longer, even though I already knew the person wasn't "the one" from the very beginning,
The thing is, I can't stand the idea of casual dating because I am the kind of person who really does know exactly what I want. From the instant I meet people, I know whether or not I can see myself going on a second date with them. I know whether or not I am attracted to them, if there is strong chemistry, if we communicate well and so on. Yet, I foolishly go against my instincts because I'm a hopeless romantic. I want it to work out for the sake of being in a relationship.
Although I try to be the kind of person who just doesn't care, I know that in the end, I always do care. I can't help but think about the future and whether or not they think about it, too. I can't help but ask them about it, and I can't help but worry. This is not because I'm being "paranoid" or "crazy." It's because I'm dating with a pre-set end goal in mind, and the people I am choosing usually do not have that same end goal.
The frustration with casual dating is we actively choose to be with someone who doesn't want the same things as us. And that's the exact problem I, and many other people, struggle with.
Casual dating doesn't have to be a stressful thing, and it really shouldn't be. It should be exciting, fun and full of adventure. If you're casually dating, do it because you really do just want to have fun and are not taking it too seriously. And on that note, make sure you're dating someone with that exact same mindset.
Otherwise, if you know what you want (and what you want is a relationship), then be with someone who recognizes that and ultimately wants it, as well.