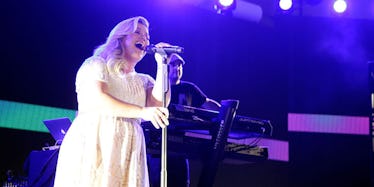 Kelly Clarkson Makes This Beautiful Couple's Proposal Dreams Come True — WATCH
Isaac Brekken/Getty Images for iHeartMedia
ATTENTION ANY AND ALL KELLY CLARKSON FANS!
One lucky dude just copped your dream proposal.
Alex Malerba and his boyfriend, Justin Blake, both big Kelly Clarkson fans, were at a meet and greet with the pop star after a show in Las Vegas, and started to take what Blake likely assumed was just a casual picture with Clarkson.
However, when they went to pose for the picture, BOOM, Malerba dropped down to one knee and popped the question to his lucky (and absolutely shocked) BAE.
The proposal is obviously followed by lots of tears and joy and hugs from everyone, including Kelly herself, who seemed so excited to be a part of something so special.
(YES, Malerba and Blake got to group hug and jump up and down with Kelly Clarkson. Try to contain the jealousy you're feeling right now.)
Honestly, you could even watch that video with no noise, and it would still be adorable. Everyone is just so obviously moved by it. Ugh, so heartwarming.
Malerba talked to TooFab about how this all went down:
I said [to Kelly], 'My boyfriend is out here and I was planning on proposing to him and I want you to help.' And she was like, 'You should have told me! I would have done it during the show' and I was like, 'Well he's out there. Can I go get him and we can do that now?' And she was like, 'Yes we are gonna do it. We aren't waiting another minute!'
As you can see, Malerba posted the adorable video on Twitter yesterday, and it's already been taking the internet by STORM ever since.
In addition to the almost 10,000 favorites and almost 2,000 retweets, people from all over the place have been reaching out to the happy couple via Twitter to send them their warm wishes.
People are congratulating the happy couple on their engagement.
And obviously, they're noting how cool it was that Kelly Clarkson got to be a part of their special moment.
The news is even bringing some Kelly fans to tears.
It's bringing joy to all sorts of people.
Because, obvi, it's adorable.
Looks like their first dance song at their wedding is already taken care of.
In the end, all our standards for proposals just went, like, way up.
OK, now time for us all to blast "Behind These Hazel Eyes" on repeat all day today while we cry because Kelly realistically won't be at any of our proposals.
Ugh, I wish I had hazel eyes.