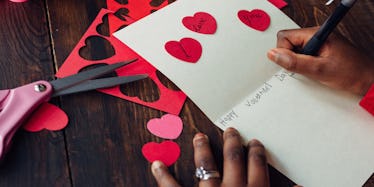 3 Ways To Have A Completely Adorable And Affordable Valentine's Day
You can argue that it's a Hallmark holiday all you want, but I don't see the problem in a day that celebrates love.
February 14 is a reminder that we don't always celebrate our relationships with loved ones, and it's a chance to put all else aside.
It's not just a date night, and it's not about cheesy cards.
It's about being grateful for your significant other.
So why does Valentine's Day automatically mean fancy expensive dinners, giant teddy bears and a dozen roses?
Why can't it be homemade cookies, little trinkets and $5 supermarket bouquets?
All I'm saying is, I won't be mad if my date spends $20 instead of $100 on me this February.
If your date is annoyed by this, you're probably dating the wrong woman.
Unless you're a billionaire who is spending $20 on the holiday, then you're doing it wrong.
Here are three ways to keep things thrifty this Valentine's Day:
1. The Gift
Etsy is always a great place to look.
The site is always loaded with holiday trinkets, and they're typically in the lower price range as far as Valentine's gifts go.
Pick up a customized bracelet or a quirky little house item for your valentine.
If you and your date aren't the sappy types, try something with humor.
Pick up one of those t-shirts that says, "Happy wife, happy life" or a kitchen item that he's talked about wanting.
Another great option is to wrap up something you can both use, like a fun little board game or some new movies.
Alternatively, surprise your date with concert or sporting event tickets.
2. The Date
If you and your date spend most weekends out, try staying in on Valentine's Day.
Order in or cook a great meal, and sit on the couch with some wine and chocolate.
If that's your typical Friday night, then make reservations at a place you haven't tried before.
To save some money, eat dinner in and go out for dessert.
Don't forget to look for free events in your area. There's always a chance for a free concert or special Valentine's event.
3. If You're Single
If you're on your own this Valentine's Day or swearing off dating, have a cheap little party with your single friends.
You can find all you need at a dollar store, including clichéd paper hearts and decorations, party plates, plastic champagne flutes and white wine glasses, chip bowls and baking items.
Dollar Tree also sells cake, cookie and brownie mixes.
You can probably find cookie cutters, and you can definitely find decorative plates and ribbon to "fancy it up."
Buy some festive frosting and sprinkles, and either have them ready for your friends or make decorating part of the fun.
It may seem like a middle school party now, but cookie-decorating can get weird really fast.
I'm sure you'll have a great time.
When you're done with your cookies, see what cheesy rom-coms you can snag cheap.
Browse Target's $5 movies, go to your local used movie store, grab them for $1 at Red Box or snag them for free at your local library.
If you already have a Netflix subscription, here are the movies I'd recommend in the romance category:
1. "The Best of Me." How could you go wrong with a Nicholas Sparks story?
2. "50 First Dates." It's one of the few Adam Sandler movies that's actually adorable.
3. "13 Going On 30." This is always a classic for the ladies.
4. "Remember Me." Keep the tissues near.
5. "Along Came Polly." There's Jennifer Aniston.
6. "The Switch." Again, there's Jennifer Aniston!
Just know that you don't have to eat at the most expensive steakhouse in town to have a romantic and exciting Valentine's Day.
There are plenty of options out there for us non-billionaires.
I hope you find the perfect arrangement this year to make your holiday great.
Don't forget to call your loved ones.
Happy Valentine's Day!